Thomas Reis: We never gave up
Schalke's game against 1. FC Magdeburg on Saturday (16/9) was a rollercoaster ride for all involved. Thomas Reis reflected on the 4-3 win alongside his opposite number Christian Titz after the game. Marius Müller and Cedric Brunner also gave their thoughts.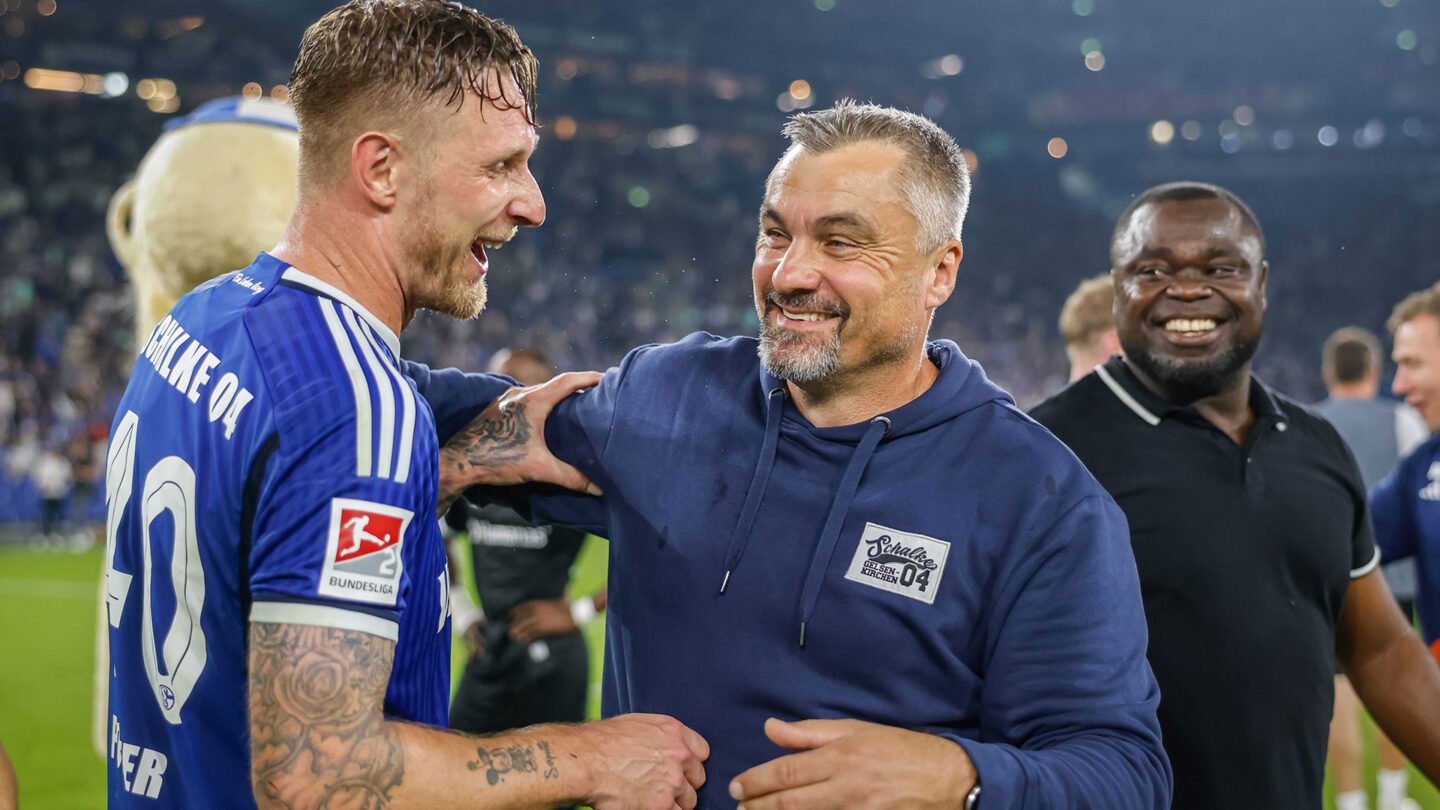 Thomas Reis:
The game couldn't have ended any better than with Michael Langer's fantastic save in injury time. We were extremely motivated before today's match, but our game fell apart a bit after a decent start and the interruption due to the smoke. We lost the ball far too many times during that period of play, were sloppy at the back and Magdeburg did really well. They were always one step ahead of us in the first half. We then changed a few things and went into the break with some positivity after our goal. We could then really feel the support from the fans too. My team gave their all and never gave up, even when we suffered another setback directly after equalising. I'm really pleased that we were able to celebrate the win together with our fantastic supporters.
Christian Titz:
We don't feel like we should have lost this game. We had several attacks after going 2-0 up from which we could have done more with. We also made mistakes for their goals. It was a different game at the end of the first half. We should have been calmer at the back after going 3-2 up, but didn't manage that. Even with ten men, we had the chance to rescue a point at the death.
Marius Müller:
I had to come off after suffering from some pain in my adductor. I felt something when I kicked the ball, but wanted to keep on going. I'm not somebody that gives up easily, but I simply couldn't carry on. The best decision then for both me and the team was to take me off. Playing on with this issue would have been irresponsible. The MRI scan will tell us the exact damage. I felt really emotional when the fans were shouting my name as I went off, I couldn't hold back the tears. I cheered the lads on from the bench after that. Michael Langer making such an important save in the last minute was fantastic. I'm pleased that the team could get the win after such a tough battle. Hopefully we can go on a good run now.
Cedric Brunner:
Magdeburg did well and found a lot of space, which isn't easy to defend. We took more risks after going 2-0 down and got one back before the break – that was important for the rest of the game. We knew we could still come from behind with our fans behind us. The second half was an extremely intense affair. Michael Langer's save in injury time was incredible; the atmosphere after the final whistle was fantastic too. These are the kind of moments I'd hoped for when I joined Schalke last year. The coach spoke to me at half time and explained that I would be coming off then as we had already used two of our possible three substitution windows. I had already picked up a yellow card and also felt something in my back. It was an unbelievable evening and the team showed what a strong mentality we have.
✎
✓