Frank Kramer: We believe we can win the game with our fans behind us
More than 12 years since the last competitive meeting between the two sides, FC Schalke 04 and VfL Bochum will meet in the Bundesliga this Saturday (10/9, 18:30 CEST). Both teams will be desperate to pick up their first win of the new league season.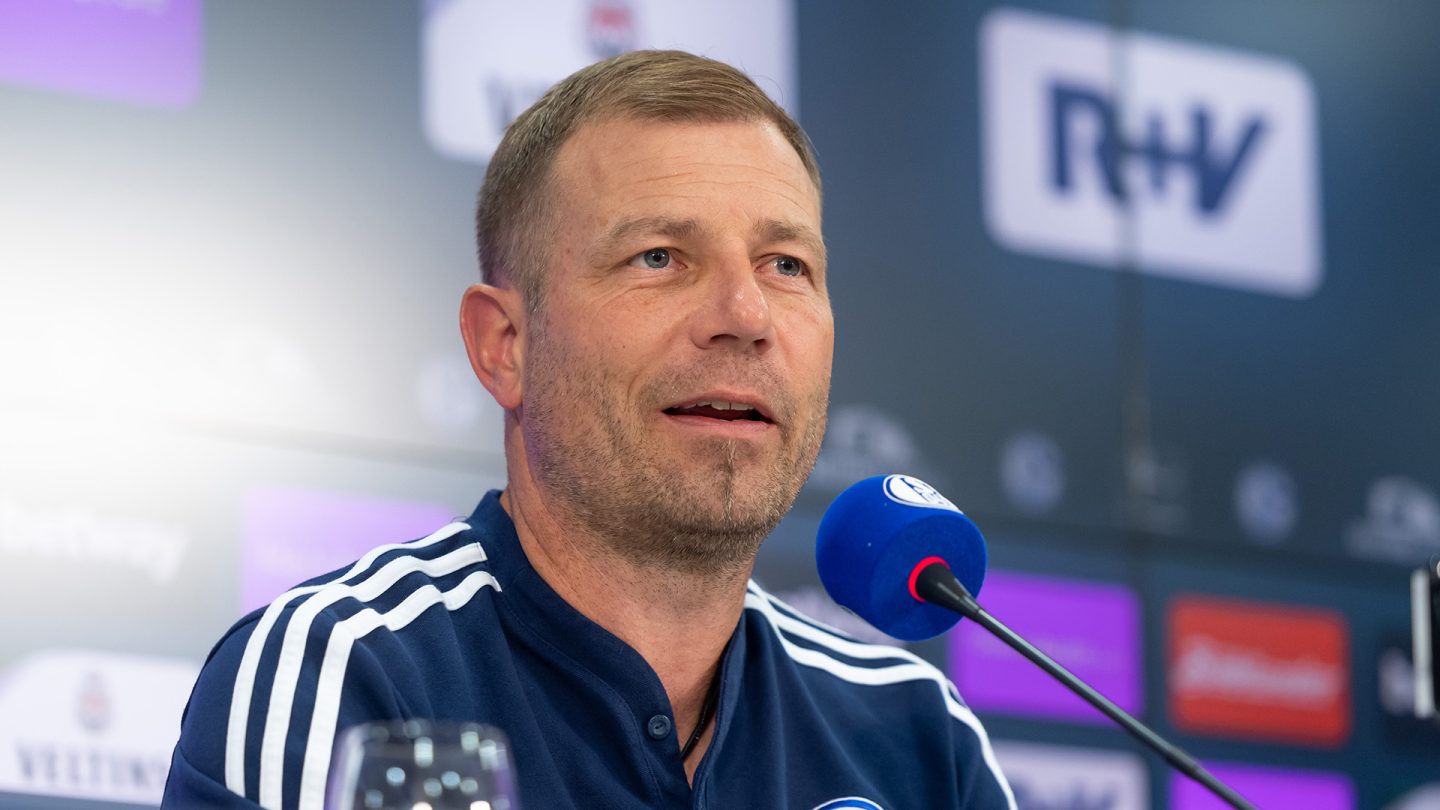 "We are desperate to win this game," stressed head coach Frank Kramer at the pre-match press conference. "VfL Bochum are one of our direct rivals in the fight for survival. We will do everything we can to get the points," added Kramer, who feels that every point and win will be important. "We believe we can win the game with our fans behind us."
Kaminski unavailable – hope for Ouwejan
Kramer will be without Marcin Kaminski for this clash with neighbours Bochum. The defender's injury, suffered away from training, has not fully healed yet. However, there is some good news regarding Thomas Ouwejan, who went off injured at half time in the 1-1 draw at VfB Stuttgart last weekend. "Thomas has had to train individually at times this week. That's worked well and we hope that will see him make the game," said an optimistic Kramer, who would love to be able to name Ouwejan in the starting XI.
Tobias Mohr replaced Ouwejan for the second half in Stuttgart and did a good job. "He got stuck in, was focused and played with some real energy. He's another option for the starting XI," commented Kramer.
Karaman an option for the starting XI
Kenan Karaman was not involved in Stuttgart, having only signed for S04 two days before the game. The 28-year-old will more than likely make the squad this weekend against Bochum. "Kenan is a friendly guy and isn't afraid to approach the other lads. He's settled right in already," reported Kramer. "He's strong technically, has good movement and reads the game well. The fact that he's fully fit too means that he's somebody that we're considering for the starting XI."
Everybody has to put in their best possible performance and constantly show that they're an important part of the team.
Another possibility is that Sebastian Polter will start up front with Simon Terodde against his former side. "We have full confidence in both of them. They are both important players for us. We've always got the option of playing them both together due to their power," stated Kramer. The S04 boss feels that the togetherness of his team will be important against VfL, but also for the rest of the season. Ultimately, a team consists of 11 players and they all need to contribute to the side's success. "Everybody has to put in their best possible performance and constantly show that they're an important part of the team."
✎
✓