Tom Krauß: We played really well as a team
Everyone at FC Schalke 04 was full of joy following Saturday's 3-1 home win over neighbours VfL Bochum. Head coaches Frank Kramer and Thomas Reis reflected on the intense 90 minutes at the post-match press conference, whilst Simon Terodde and Tom Krauß also gave their thoughts.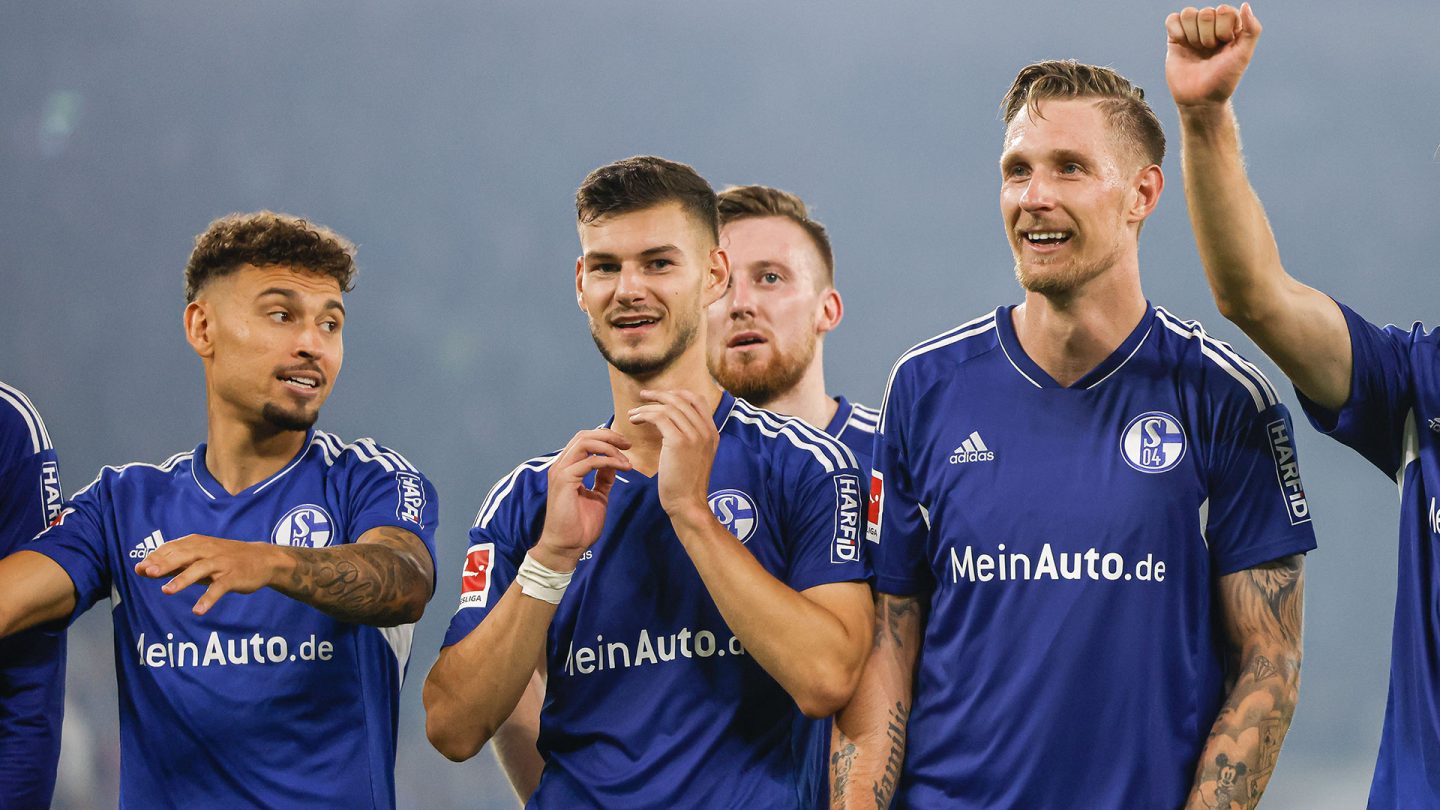 Frank Kramer:
I think we were well in the game tonight. We had a lot of control and went ahead. We wanted to keep going, but conceded the equaliser soon into the second half. We had luck on our side today, though we deserved it after working so hard. We're really pleased to be able to celebrate this win in front of our fans. It was an important game for us, so it's totally normal that it got so emotional. I'm proud of the team.
Thomas Reis:
This was a really frustrating game for us. We gave Schalke too much space in the first 20 minutes. We then started the second half well, but ultimately picked up no points once again. The lads are gutted in the changing rooms, they gave their all and ran so hard. Losing Takuma Asano early due to injury was just another part of our problems. We had chances up front, but our mistakes at the back are being punished right now. We weren't without a chance tonight. We unfortunately conceded twice from set pieces, and that makes this result really frustrating.
Simon Terodde:
There was a lot of pressure on this match tonight. Following this afternoon's results, it was second bottom and against bottom going into this game. I'm therefore delighted that we got the win. It was a really important one and you could sense that after the game. We were pushing hard in the first 20 minutes and I could have scored, but only hit it straight at Manuel Riemann. Our 1-0 lead at half time thanks to Domme Drexler's goal was deserved, however we were too passive at the start of the second half. We switched it up a gear after conceding. It was nervy right until the end before Polti's goal sealed a 3-1 win. We need to build on this for the derby next week. I always enjoyed watching the derby as a kid and now I can be a part of it.
Tom Krauß:
We're relieved to have won the game. We finally got our first victory of the season together with our fans. This amazing support from the stands helped us recover from their equaliser. We turned the game in our favour again after making it 2-1 and Polti's goal to make it three at the end was fantastic. I told him before the game that I had a feeling he would score and it actually happened! I think I got stuck in really well today, though I don't want to speak too much about my own performance. The team is always the most important thing – and we played really well as a team. I'll enjoy the win and then we'll turn our full focus to the derby!
✎
✓