Ralf Fährmann: A tight-knit group where everyone has done their bit
After an exhausting 90+7 minutes against VfB Stuttgart on Saturday (25/2), the relief was even greater from a Schalke perspective as referee Deniz Aytekin blew up with the team 2-1 ahead. There were hugs between the players and after that, the 'Knappen' enjoyed celebrating with the fans.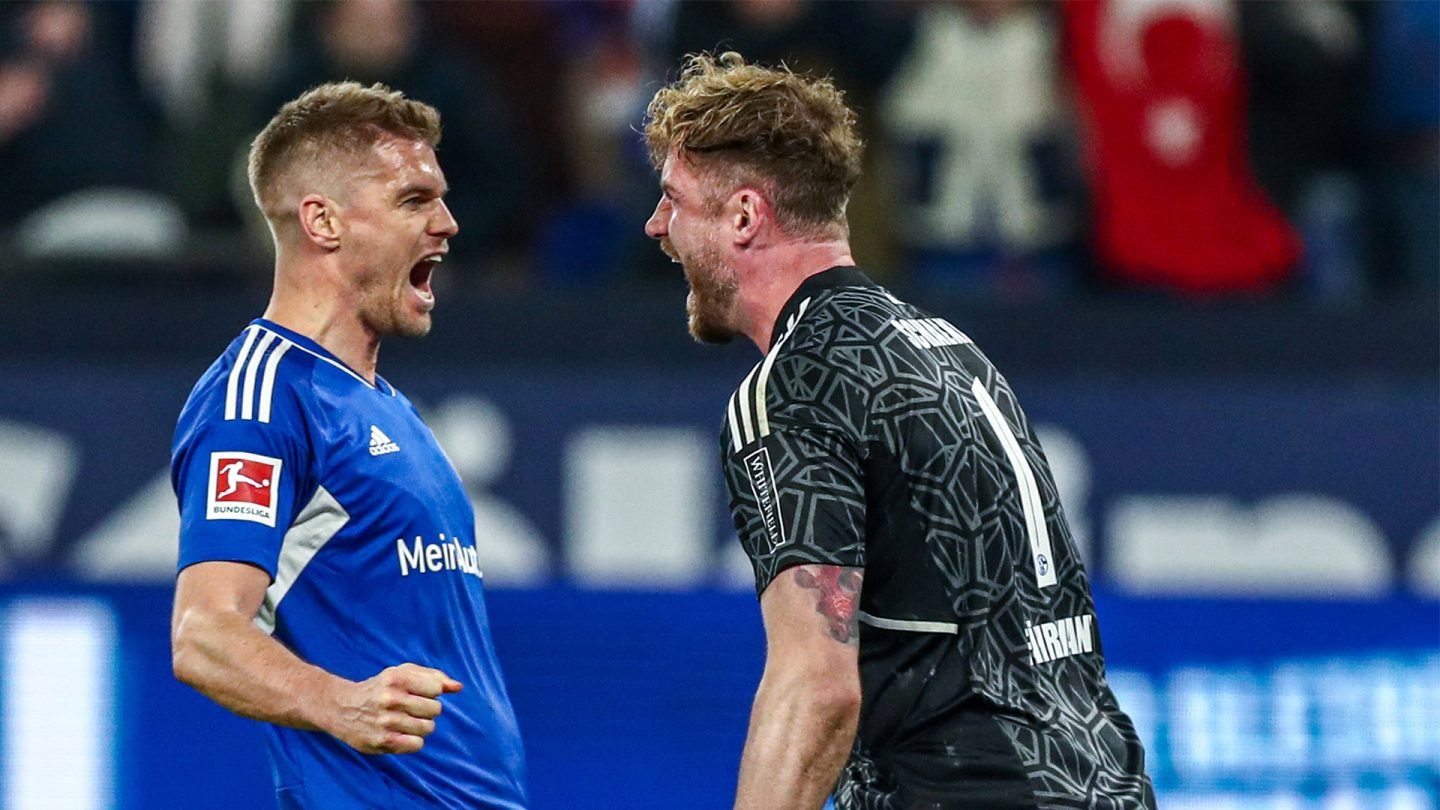 "It was pure goosebumps. It was good to get the three points and because of that it was so emotional after the final whistle," said Ralf Fährmann, who was pleased that after four goalless draws the team was able to take all the spoils this time. "In the games before, we brought the same level of commitment on the pitch and gave everything, but were not able to reward ourselves properly. Now, we've finally done that," continued the Schalke shotstopper.
Praise for those in front of him
Through their performances in the games so far this second half of the season, the team have gained a lot of self-confidence, according to Fährmann. He also suggested that the team is creating a lot more chances and is clearly more stable defensively than in the first half of the season. "Our defenders have done an unbelievably good job," said Fährmann, praising his defence. "Moritz Jenz has been phenomenal, Maya Yoshida throws himself at every shot, our double pivot are very good out of possession," said Fährmann. "Everyone in the team has done their bit.
Everyone is there for each other on the pitch
The 'keeper himself made some important saves and didn't allow his mistake in the 63rd minute, as he allowed a Borna Sosa shot to go through his hands, knock him off his stride. "Errors are a part of football; no one is spared from that," said Fährmann, who can always rely on the support of his teammates. "Everyone is there for each other on the pitch. Also those who are being subbed on are contributing immediately. You can see that we are a tight-knit group."
Win away with the fans behind us
But, despite the important win against a direct rival in the relegation battle, Fährmann suggest the team still have a long road ahead of them. "We are still the team chasing," said Fährmann, already looking forward to the upcoming task on Saturday (4/3). "Bochum against Schalke is a very emotional and fiery game, regardless of the table situation," said the 34-year-old, who knows the team can also count on the support of the Royal Blues' supporters for this game. "It is a strength of ours that we are so together – us players together with the fans," emphasised Fährmann. "This is the case in both home and away games. Because of that, I am looking forward to the game in Bochum."
The team will be very well-prepared for the game, said Fährmann, looking forward to the game against local rivals in any case. "It will definitely be a feisty one. The season will not be decided on the next matchday, but we obviously want to win – and will do everything to achieve that!"
✎
✓