Frank Kramer: It's about time we got underway!
After a year away, FC Schalke 04 are set to make their return to the Bundesliga on Sunday (7/8, 17:30 CEST). Frank Kramer's side will be coming up against 1. FC Köln, as they look to get the season off to a successful start. "We're really looking forward to finally getting underway, after such a long pre-season," said the head coach.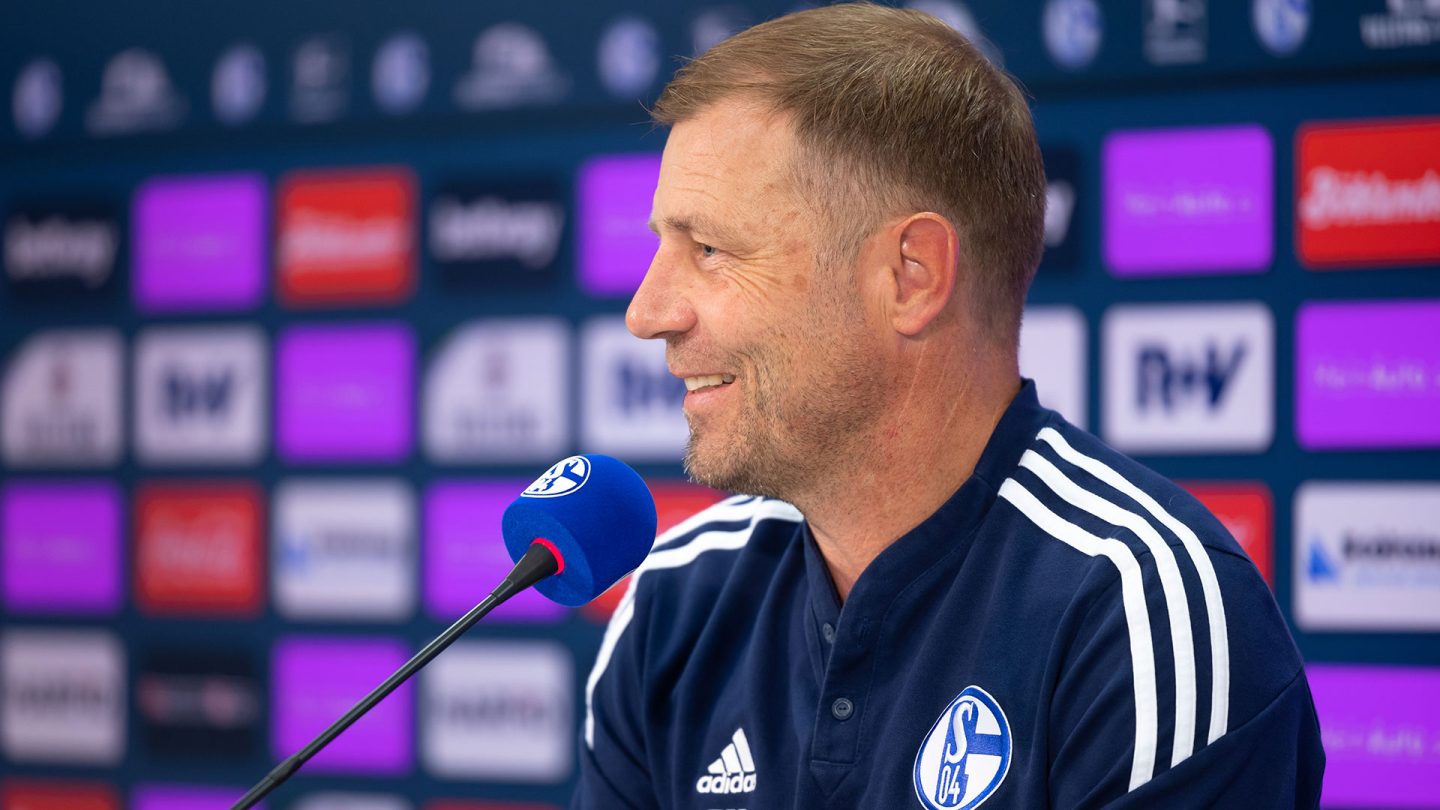 Speaking on the mood within the first-team set-up, Kramer said excitement levels "are high, and it's about time that we got underway!" With just two days to go before the season opener against the Billy Goats, the head coach has been able to welcome another new addition to the squad, with Jordan Larsson signing a three-year deal. "Jordan Larsson is a special type of player. He's quick on the ball, very skilled, dynamic and a creative attacker," Kramer said about the Sweden international, who has been capped seven times for his country. When asked whether Larsson could be an option for this weekend, Kramer said "We won't overload him at the start. We have our expectations for him, but also need to carefully prepare him so that he's able to really take off for us."
We have made progress in terms of our positioning and link-up play, as well as in our play against the ball.
Kramer added that he was pleased with the team's performances during pre-season. "The lads are eager to get going and look very determined. We have made progress in terms of our positioning and link-up play, as well as in our play against the ball," he said. In Köln, he is expecting to come up against a team that will play with a lot of power, and look to attack often, especially from crosses.
It will be the first of many tough matches for the Royal Blues this season, whose main goal will be to remain securely in the top flight come May. Kramer will be counting on his team's mentality to get them over the line, adding that he hopes every Schalke fan will be able to leave each game thinking "These players gave it everything for our colours."
Doubts around Terodde and Latza
It remains to be seen whether Simon Terodde and Danny Latza, who weren't in the squad for the 5-0 cup win in Oldenburg, will be able to feature this weekend. Terodde is expected to complete the full training session on Saturday, with a decision to be made afterwards. "Simon is immensely important for us," said Kramer. "However, it's also important that he be able to play in as many games as possible for us." Latza has featured in every training session so far this week, with Kramer saying "We will wait and see how things look tomorrow." Malick Thiaw will be an option for the coach, having missed the DFB-Pokal match against Bremer SV as part of a red-card suspension carried over from last season.
✎
✓