Frank Kramer: We want to dictate play and take our chances
A week on from Schalke's dramatic last-minute draw against Borussia Mönchengladbach, the Royal Blues prepare to face VfL Wolfsburg on Saturday (20/8, 15:30 CEST). Head coach Frank Kramer was able to draw positives from the 2-2 draw against the Foals, but also added that there is room for improvement still.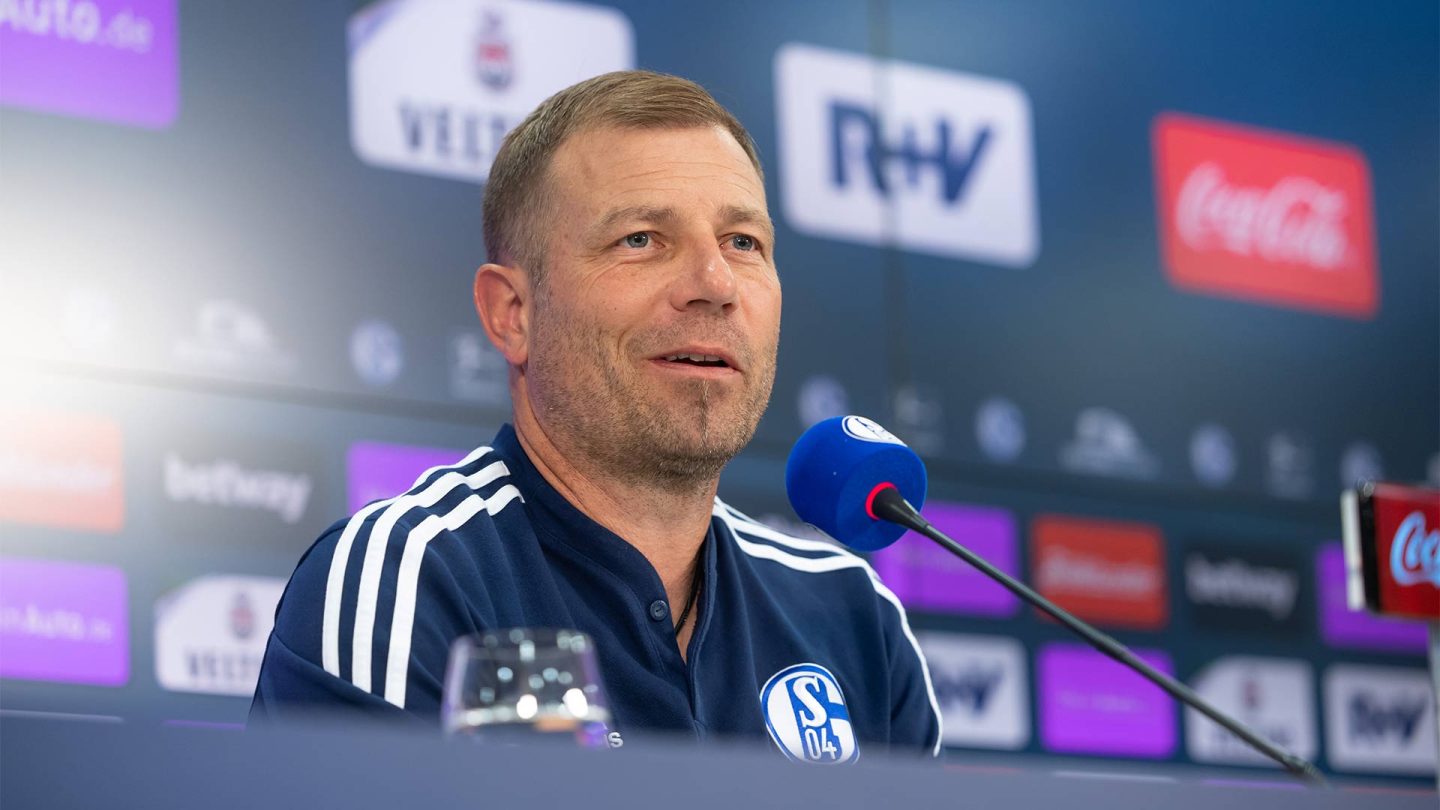 "We did very well for 60 minutes against Gladbach," Kramer said. Had the team been able to score a second goal during that time, then it would have given them extra security. During moments where the opponents are putting the team under pressure, as was the case against Borussia, it is important to remain compact and be strong in the tackles, in order to avoid chasing after the ball. "We also have to defuse the pressure, by being more focused when we're in possession and create good chances for ourselves," he explained, something that was missing against Gladbach. The team will also need to continue to work on their accuracy and routines as a team.
Wolfsburg also with one point from two games
Wolfsburg opened the season with a 2-2 draw against Werder Bremen, before losing 2-0 at Bayern, meaning they have managed to pick up one point so far, same as Schalke. Speaking about the opponent, Kramer called them "an athletic side," that bring a lot of pace to the pitch. "They look to dominate during their build-up play and are variable in possession. They are also strong on set pieces," Kramer said, adding "We want to dictate play and take our chances."
The 50-year-old will have nearly a full squad to choose from in Wolfsburg. Sidi Sané is the only player who will definitely not feature, while this week's training has been designed so that Thomas Ouwejan and Simon Terodde will "be able to gradually get stronger so that they are able to feature fully."
Larsson making good progress
Another option for Saturday is Jordan Larsson. "Otherwise, he wouldn't be in the squad," said Kramer, who added that the attacker has made good progress so far. However, it makes a difference whether a player has been training individually for several weeks, or with the team. "The intensity required in Germany is very different," Kramer said. "That's why we still have to work on a few more areas with him."
It's important to stick together as a team. There's no room for ego here. You have to be ready when called upon.
Regardless of which 11 players will start on the weekend, the team comes first. "Everyone needs to know their place and remain positive, even if they aren't among the 11 players that start, which is exactly what the lads are doing," Kramer said "It's important to stick together as a team. There's no room for ego here. You have to be ready when called upon."
✎
✓