Thomas Reis: Be brave, clever and focused
Step-by-step towards safety is the motto of head coach Thomas Reis, whose side is next in action on Saturday (20/5, 15:30 CEST) at home to Eintracht Frankfurt. A win would put the Royal Blues in a good position ahead of the final matchday next weekend.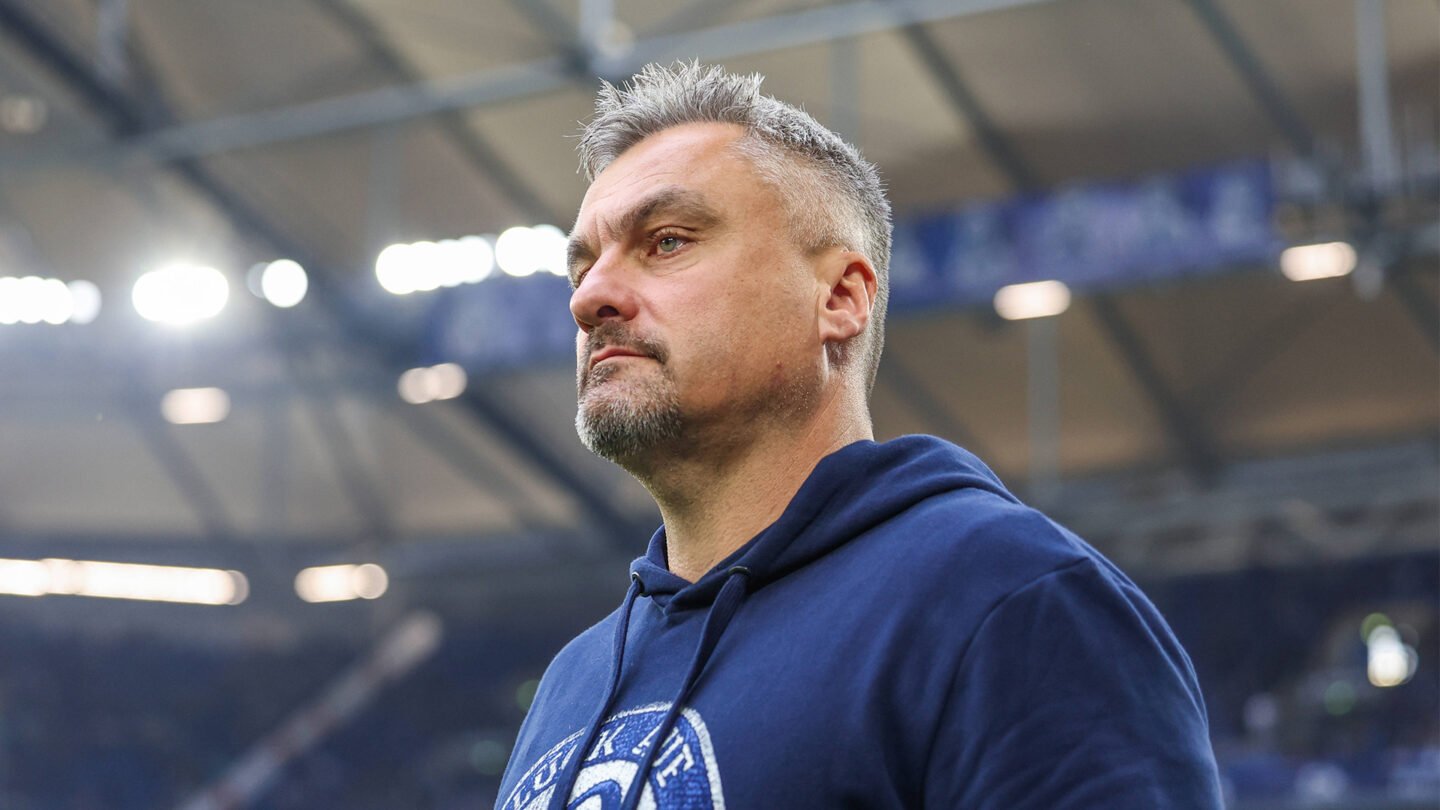 The first step, according to Reis, was getting into the position the team currently find themselves in. The Royal Blues are within touching distance of 15th, and with it safety, with just two games to go. Saturday's game against the DFB-Pokal finalists is the next opportunity for three points, though Frankfurt will also be aiming for the victory, something they need in their bid to reach Europe via their Bundesliga position.
Jenz fit again – Uronen and Fährmann ruled out
Centre-back Moritz Jenz is available again after a three-match absence due to injury. "There is nothing stopping him starting the game, he is fit," reported Reis. However, Jere Uronen (muscular problems) and Ralf Fährmann will not be able to feature against the Eagles. The goalkeeper, who suffered an adductor injury a month ago in the win over Hertha, has been able to complete parts of team training recently. "Ralle is making good progress, but he's not yet ready to play a Bundesliga game," revealed the coach. Marius Bülter will also not be able to play on Saturday. He picked up his fifth yellow card of the season last time out in Munich and is therefore suspended. "We will find a good replacement for him," said a confident Reis. "The group may even grow closer together to deal with his absence."
We suffered a setback and now need to deal with it successfully.
The Schalke coach is well aware of how important this match will be. He wants his team to be confident, clever and focused on the task at hand – as well as strong in the tackle. Reis believes Frankfurt play good football, posses a lot of pace and deservedly beat Mainz last time out. "We know how much we have to give to get all three points." The 49-year-old admitted the match in Munich last Saturday was a tough one, but said the team have now put that in the past. "It's important that you come back stronger after a game like that. We suffered a setback and now need to deal with it successfully."
An extra boost from the home support
Around 60,000 Schalke fans will be at the VELTINS-Arena to cheer on the team once again. They played their part in recent home successes against Hertha BSC (5-2) and Werder Bremen (2-1) and Reis hopes this will be the case again tomorrow: "We have performed well at home and played with real energy. With our amazing fans behind us, we will do all we can to give Eintracht Frankfurt a real game." The upper tier of the Nordkurve will all be dressed in blue and the lower tier in white, something Reis described as "sensational." He finished by adding: "That kind of thing gives me even more energy. It makes you emotional when the fans do something like that. They have always believed we can achieve what we want to, even if some people had perhaps given up."
✎
✓