Thomas Reis: My team gave everything
Thomas Reis and his opposite number Oliver Glasner both agreed that Schalke played well on Saturday (21/1) and deserved far more than they got from the game. Captain Danny Latza and Marius Bülter also praised the team's performance, but, just like their coach, mentioned the missed chances.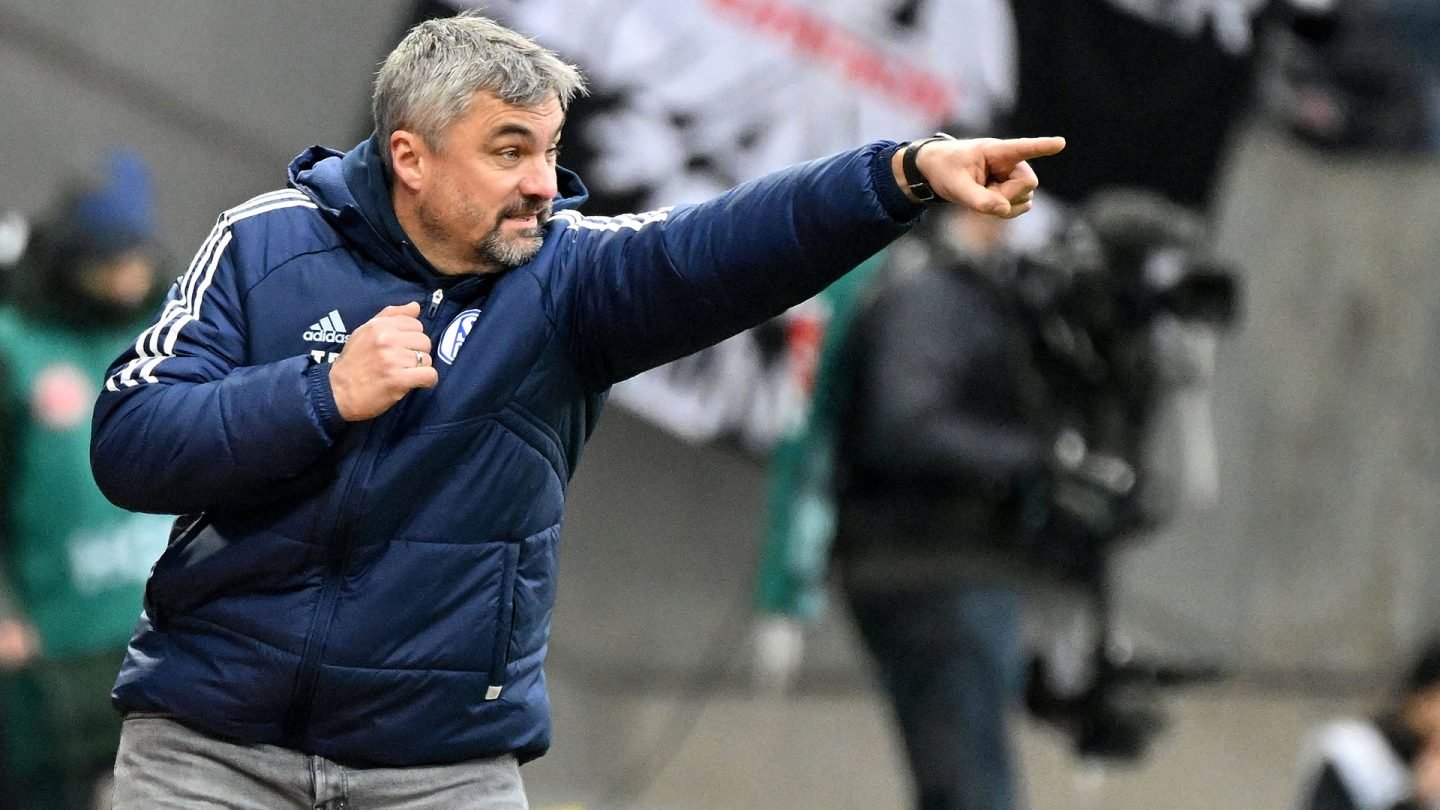 Thomas Reis:
I said before the game that every player should give everything and they did just that. We played with a lot of confidence and bravery. Coming home having lost 3-0 is therefore really disappointing. Frankfurt took full advantage of their few chances. We, on the other hand, need far too many opportunities at the moment. That was the difference today and it's why Eintracht are second and we're bottom. They showed their quality during decisive moments. We missed a number of chances to score the equaliser, but a lot of other things we did were good. We were brave, aggressive, got stuck in and fought hard.
We will analyse today's game and go again in midweek. The team tried everything and will continue to do so. We will play like that against Leipzig and look to create chances, which we'll hopefully take this time. If you don't score goals, you won't pick up points. RB will obviously be the favourites when you look at the table. Every game starts 0-0 and we're at home. The VELTINS-Arena can be a real advantage given how loud it is.
Oliver Glasner:
It may sound a little strange to say this after my team won 3-0, but I'd like to congratulate FC Schalke 04 on a really good performance today. They made life extremely difficult for us, although I did expect that would be the case. The final scoreline was definitely not a fair reflection, even if we scored some really nice goals. We were lucky on occasions that they didn't take one of their good chances to equalise. Schalke were actually the better team for parts of the game. I was pleased with both the three points and the two late goals by my substitutes.
Danny Latza:
We were dominant today, particularly in the first half. We had some good chances too, but unfortunately couldn't find the back of the net. That was an issue too during our friendlies recently. Frankfurt showed us how it's done. They only had a few chances but took them – that's what we need to do. We will keep going and build on this performance. Hopefully we'll get a bit of luck on our side soon too.
Marius Bülter:
We had a lot of chances. We just need a bit of luck so that one of them just goes in. Kevin Trapp made a number of fantastic saves. A defender got in the way at the last moment on a number of other occasions too. It was really frustrating. Nevertheless, we can build on this performance. We saw what we're capable of today and that gives me hope. It's important that we start converting our chances. We were pretty solid at the back, they basically scored with their first two shots – that was the difference.
✎
✓