Henning Matriciani: A call from Gerald Asamoah changed everything
The dream of becoming a professional footballer was something that Henning Matriciani had pretty much given up on. That was, however, until a call from Gerald Asamoah changed his career forever. The 22-year-old, who is a trained physiotherapist, is now a permanent member of Schalke's first-team squad.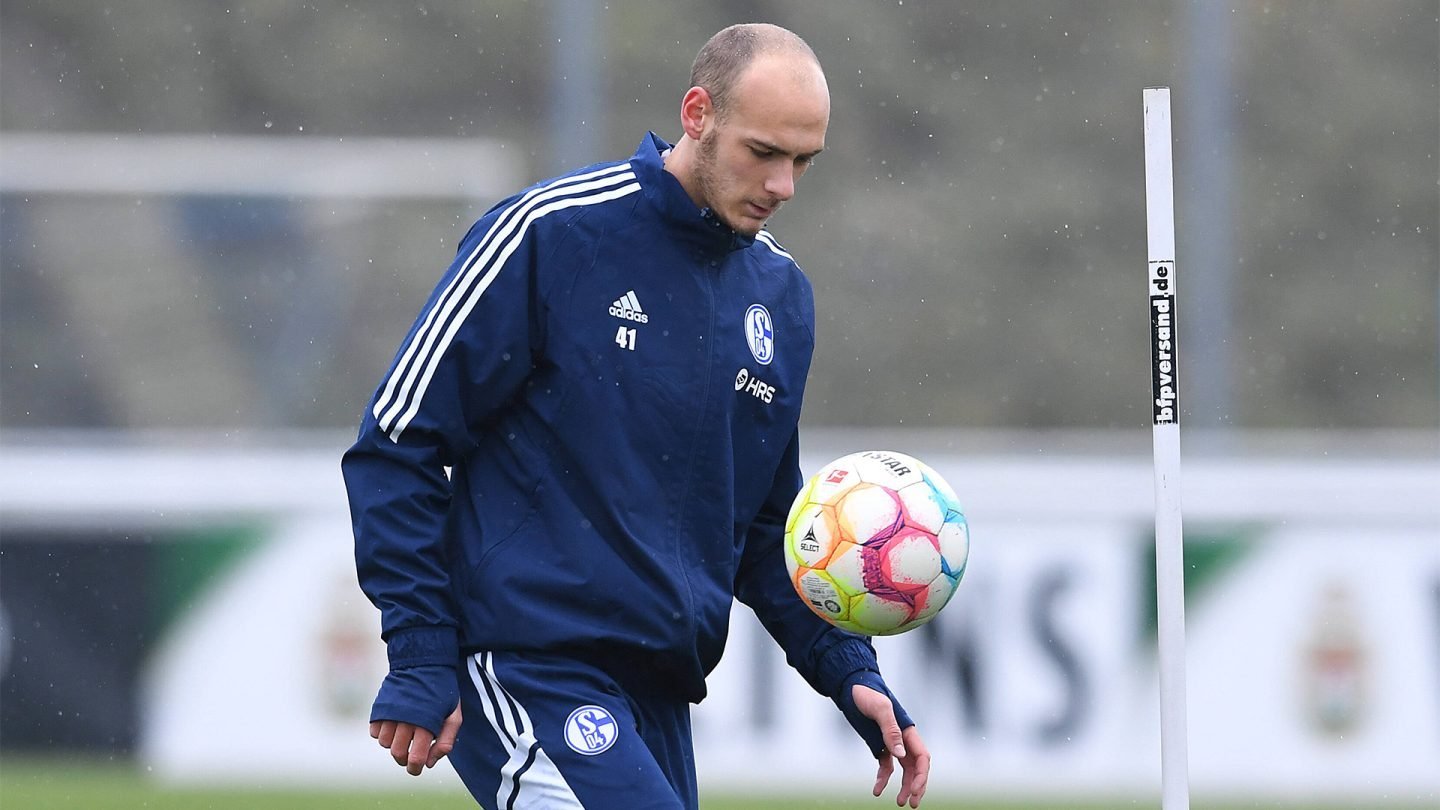 Henning Matriciani worked at a physiotherapy practice in Lippstadt for three years and seven months before joining FC Schalke 04's academy in summer 2020. Peter Knäbel and Gerald Asamoah were impressed by the defender during a game between SV Lippstadt and Schalke's U23s. Shortly afterwards, Asamoah, who was U23s manager at the time, rang up Matriciani. "I initially thought it was a joke, but soon realised it was actually Asa," said Matriciani on the phone call that changed his life.
Promotion the highlight of the year
The defender then joined the Knappenschmiede after that phone call. Strong performances for the U23s saw him make his Bundesliga debut in May 2021, when he came on in the 67th minute in a 4-3 win over Eintracht Frankfurt. Matriciani featured 12 times the following season in the second division, and has so far appeared eight times back in the top flight this term, playing the full 90 minutes in each of the last five games. "It's been a really eventful year. I've experienced a lot," reflected Matriciani. His highlight of 2022 was the win over FC St. Pauli to seal promotion: "Memories like that are ones you never want to forget."
The youngster doesn't feel that much has changed over the past few months for him personally, even if he has to pinch himself sometimes to check if "all this has really happened to him." One difference is that he's recognised more often on the street. "That's obviously nice," said the 22-year-old defender.
Matriciani wants to establish himself in the Bundesliga
Things have certainly been going well for him personally in recent times, and he "simply wants to carry on trying to enjoy it." His long-term goal is to establish himself as a Bundesliga player.
We're going to be hunting down the teams above us. Anything is possible.
Matriciani is currently on holiday, like the rest of his teammates, before the squad will head off to Belek on 2nd January to prepare for the remainder of the season. "We've got a short break now to recharge our batteries and then we've got the training camp in Turkey, where we want to get ourselves ready for the second half of the season," stated Matriciani, who believes the Royal Blues can beat the drop this season: "We're going to be hunting down the teams above us. Anything is possible."
✎
✓