Henning Matriciani: You can't describe these feelings
Henning Matriciani putting his body on the line and preventing Dortmund from going 3-2 ahead in the 90th minute was a moment that reflected the passionate Schalke display in the Revierderby on Saturday (11/3), and a moment that might leave a more lasting impression than the four goals scored in the 100th Bundesliga match between the S04 and BVB. It was the final moment to reward the two-goal comeback on Saturday evening and earn Schalke a point against the team second in the table.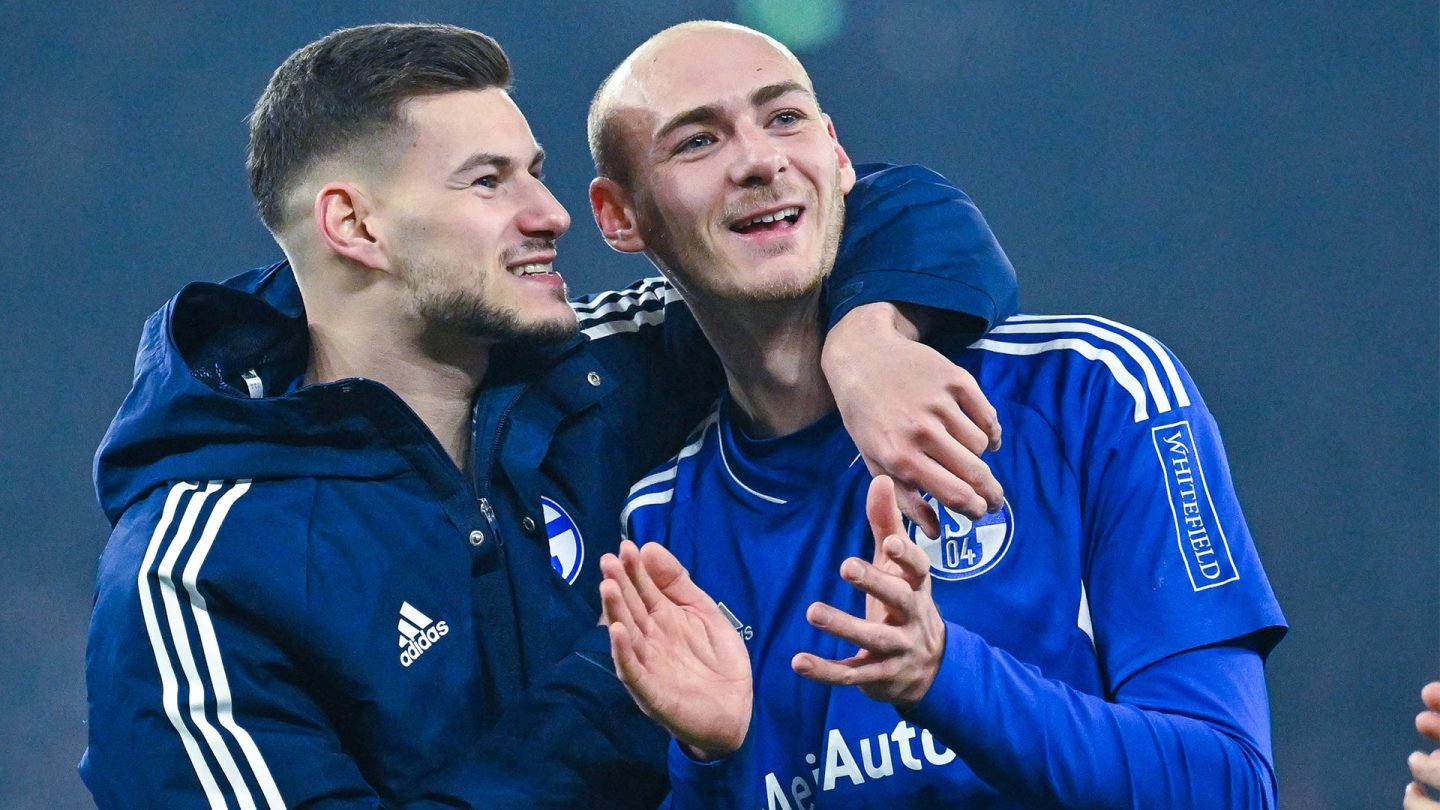 After Maya Yoshida had blocked a shot from Nico Schlotterbeck moments earlier, it was Mahmoud Dahoud who eyed up the Schalke goal from a central position with plenty of space in front of him. Many S04 fans would have been sure that the visitors were going ahead, but Henning Matriciani suddenly rushed in, threw himself in front of the shot and prevented Dortmund from scoring a winning goal.
Praise for the "mentality monster"
He is an "absolute mentality monster", said goalkeeper Ralf Fährman in high praise of his teammate. "When you say that you need to go at the opponent, Henning was the perfect example of that in this derby." Matriciani didn't just show in the final minute what was needed against BVB, who were superior for long periods of the game. He showed aggression, passion and an occasional perfectly timed tackle.
Giving everything until the final whistle
The fact that his teammates showed him lots of praise after the game "was an incredible feeling", said the 22-year-old, who transferred from SV Lippstadt 08 in 2020 to the Schalke U23s and is now living his dream on the big stage in the Bundesliga. "To be in the starting eleven in front of this crowd in a derby is amazing. You can't describe these feelings," said Matriciani, who played on the left side of defence against BVB. Towards the end, after an intense 90 minutes, it was a little harder for him to carry on, he admitted, but he was pleased that he could give his all to secure an important point in the relegation battle.
It's a great feeling to be able to celebrate with the fans afterwards.
Not just him, but the entire team put everything into the challenges, said Matriciani, who deemed it "a really good performance on the whole" from himself and his teammates. As a reward for this, the Knappen received the applause of the fans after the final whistle, who had cheered their side on from the first minute to the last. "This pushes us so much and we can give our all," said the defender, who visibly enjoyed the moments in front of the Nordkurve after the final whistle, and added, "It's a great feeling to be able to celebrate with the fans afterwards."
✎
✓