Thomas Reis: Be alert, be aggressive and take our chances
FC Schalke 04 have a tough challenge ahead of them on Saturday, as they welcome VfB Stuttgart to the VELTINS-Arena for a relegation six-pointer (25/2, 18:30 CET). Head coach Thomas Reis is hoping for his side to finally get back on the scoresheet after four 0-0 draws in a row.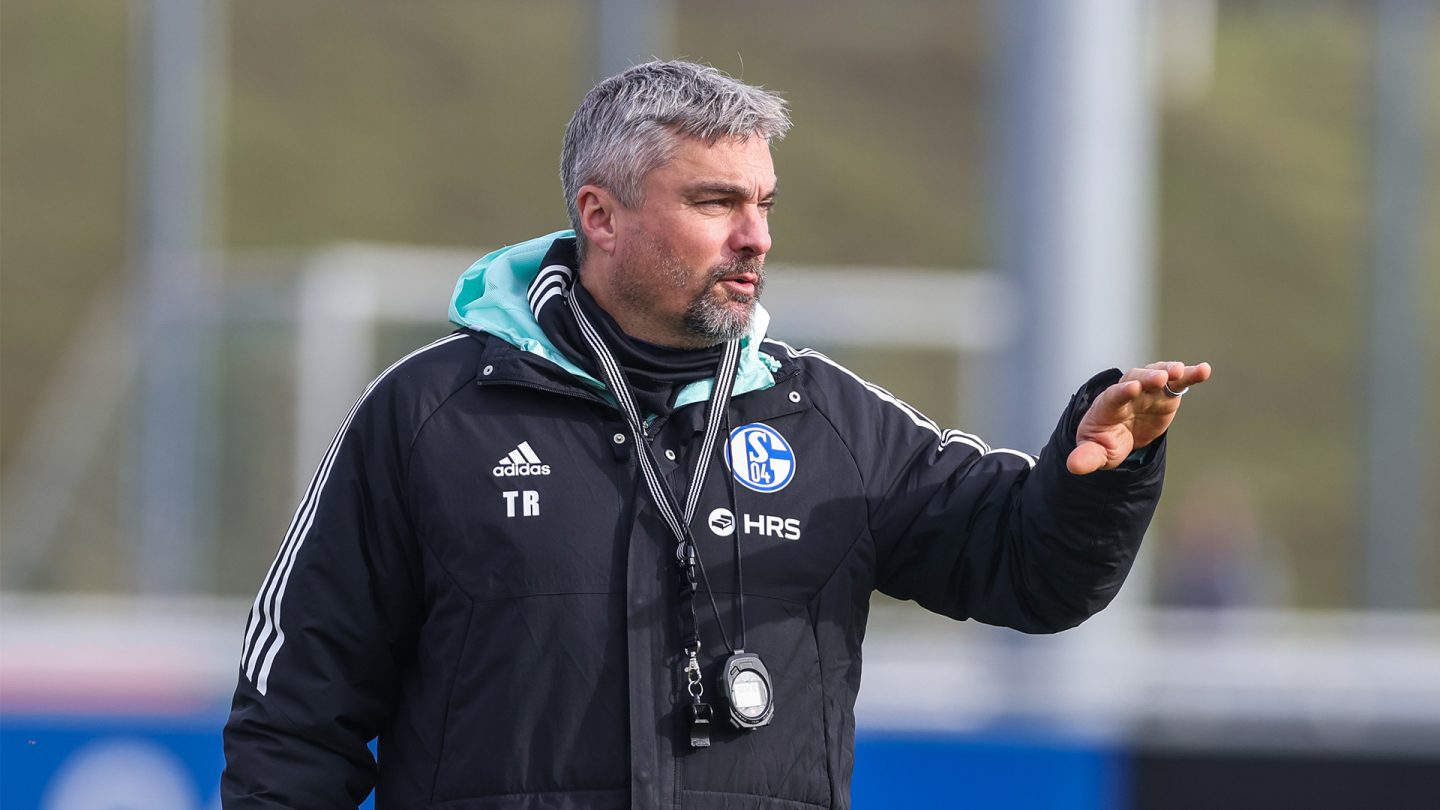 A goal for the Royal Blues this weekend would "be a huge relief," said Reis. "You have to work hard to get this reward. I can see that the lads are doing exactly that." Over the course of their video analysis sessions, the coaching staff have shown the team how they can improve the quality of their chances on goal. Additionally, the team have been working on shooting in training. The important thing is that the players, especially the attackers, don't over-think things. In order to help avoid this, Reis has sought out the players for one-on-one meetings this week.
Putting on the pressure
Schalke's upcoming run of matches sees them take on several direct competitors in the battle to avoid the drop. According to Reis, it's not a bad thing for the team to be feeling more pressure when confronted with matches like this. "It's great that we have put this pressure back on," he said, with the importance of the upcoming games is clear to everyone. "We have picked up points in four straight games and know that we have two important games coming up. These two games are a chance for us to put us back in the race. We want to take it," Reis said. "We will need to be alert and aggressive, all while taking our chances."
S04 without three centre-backs
Following the full-time whistle in Berlin, the team immediately shifted their focus to VfB Stuttgart. Reis will be without three centre-backs this weekend, as Jere Uronen, Thomas Ouwejan and Cedric Brunner are all sidelined with knocks. Wingers Tim Skarke (bruised foot) and Soichiro Kozuki (ankle) will also not be able to feature against the Swabians, having also missed the match against Union. Sepp van den Berg, who is back in team training after suffering an ankle ligament injury in October 2022, has also not been able to return to full fitness in time for Saturday. "We have other players who are ready to fill in," Reis stated. "We will find players who are up for it," he said, adding that it could also be an option to make some changes to the formation.
Everyone is itching to get three points, and we have a massive chance to do so. We will give everything we have in order to make this happen!
According to Reis, VfB are a team who play with a lot of pace, especially on the counter. However, they also allow their opponents plenty of opportunities to send in crosses, which the Royal Blues will be looking to exploit. "We want to use the flanks as our path to goal and keep their defence busy. We will see who is the better side on the day," Reis said. With the crowd on their side, the team will be aiming to get a long-awaited win at home. "Everyone is itching to get three points, and we have a massive chance to do so. We will give everything we have in order to make this happen!"
✎
✓