Thomas Reis: We are travelling to Berlin to win
After three goalless draws to start the second half of the season, the 'Knappen' face 1. FC Union Berlin at 15:30 CET on Sunday (19/2). The Köpenick-based side, who are currently second in the table and have won their last five Bundesliga games in a row, are favourites on paper, but the Royal Blues' aim is clear: To come back with three points!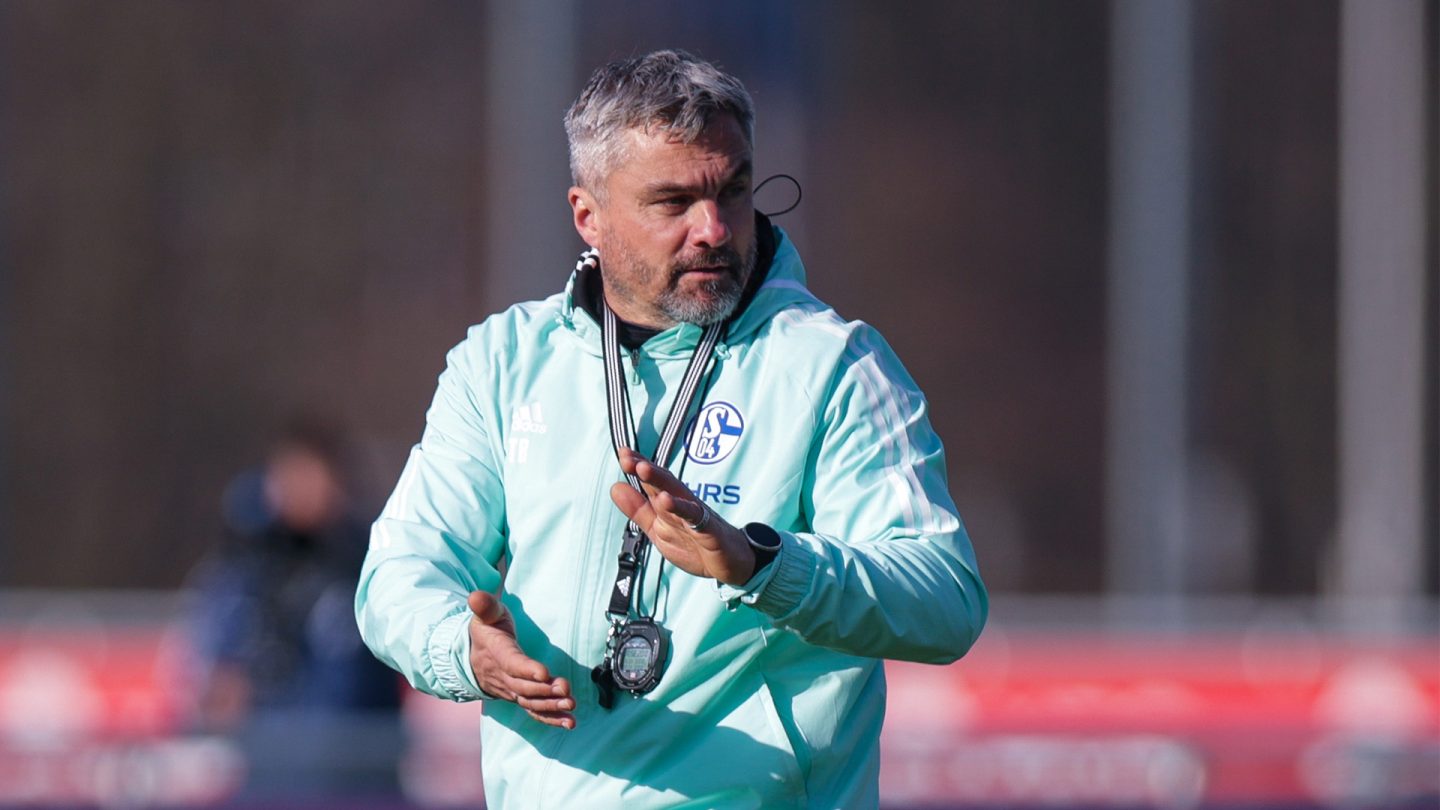 "We are travelling to Berlin to win," said head coach Thomas Reis, setting out his aims for the game on Sunday afternoon. "To say that we just want a point doesn't fit with the way I do things and that also can't be the way Schalke does things."
Skarke a doubt for Sunday
Danny Latza, Marcin Kaminski and Niklas Tauer will not be available to Reis for the meeting in the capital. The trio were able to train this week, but it is still too early for them to make their comebacks. Tim Skarke's involvement is equally in doubt, as he has been suffering from a foot injury.
Reward ourselves with three points once again
The Royal Blues travel to Berlin with a healthy mix of respect and self-confidence. The performances in the first three games of the second half of the season have given the team confidence; they now want to finally be rewarded with three points. "We are always trying to work hard. That's the most important thing," emphasised Reis, who is content with his team's appearances recently.  "What the team has delivered in the last three games was ok, because we kept clean sheets – and not because we just sat back, but because we were defending actively," said Reis. In attack, Reis suggest the team is just missing that little slice of luck. "In any case, you can't just give up and stop trying to get that luck," said the Schalke head coach, who has seen a team on the pitch that is giving everything to get another win. "We have a run that shows that we were hard to beat three times in a row. Now, we want to also pick up the three points, then this run can also be seen as very positive," said Reis.
We would be well-advised to implement our structure. If we do that, then we have a good opportunity to pick up points against Union."
Reis suggested that the fact that Union played in the Europa League (0-0 draw against Ajax) during the week will not give the Royal Blues too much of an advantage, because FCU coach Urs Fischer, who Reis described as doing "amazing work over a number of years", is able to make changes to his side without losing too much quality. "It is a team that has consolidated and grown. The players know exactly what they have to do," said Reis of the upcoming opponent. "This is clear in their playing style, they play in a very structured way, but they do it excellently. They have very little possession but are still successful because they have a very good defence. They try to force their opponents into errors and are very strong in transition," expanded the Schalke coach. He added that it will be important to not to keep the errors in midfield to minimum and not allow FCU to counterattack. Nevertheless, Reis emphasised that the focus should stay on their own game. "We would be well-advised to implement our structure. If we do that, then we have a good opportunity to pick up points against Union."
✎
✓