A comeback, a first Bundesliga goal and a last minute winner: Sepp van den Berg's special evening
Comebacks don't get much better than this. Sepp Van den Berg made his first Bundesliga appearance since 2nd October 2022 on Saturday afternoon, as he played an instrumental role in Schalke's win over Werder Bremen. The Dutchman, who suffered an angle ligament injury 209 days ago against FC Augsburg, came on in the 77th minute with his side trailing 1-0. He bagged the equaliser just a few moments later with one of his first touches of the ball and he was the catalyst in what would prove to be a memorable evening at the VELTINS Arena.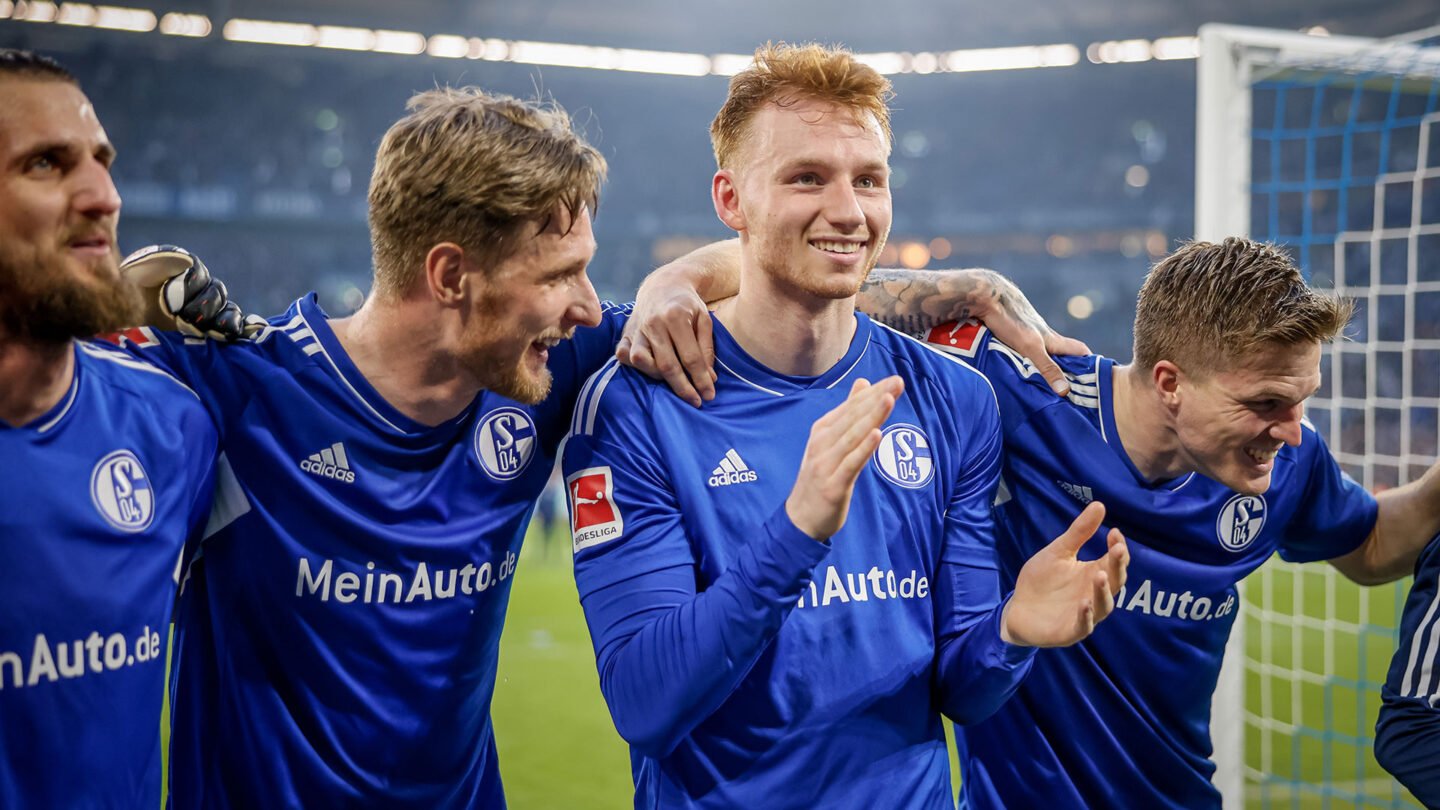 "I am simply delighted. I made my return, I got my first goal for Schalke and most importantly, we picked up three important points as a team," explained the 21-year-old, who was overjoyed when he saw the ball hit the back of the net for the equaliser: "A lot of things went through my head in that moment. I have been out injured for more than half a year and I have worked day in, day out to finally be able to play in this wonderful stadium again. It's like a dream."
After his goal in the 81st minute, van den Berg was able to celebrate with his teammates and with the fans as Dominick Drexler scored in added time to give the Royal Blues a 2-1 win against their fellow promoted side. "It was deserved. In the second half we were clearly the better team. We had lots of good chances and we were rewarded in the end."
I'm not normally a goalscorer.
Van den Berg made it clear that the fans played an important role in his side picking up the three points. "They are our twelfth man. It's hard to put it into words how vital they are." It was also unfamiliar territory after the game for the defender, who got the rare chance to speak after the final whistle as a goal scorer: "I'm not normally a goalscorer (laughs) but I couldn't let this opportunity pass me by!"
Team spirit the key to survival
Van den Berg added that he wouldn't forget about this memorable night anytime soon. "It was definitely the most important goal of my career," he said, adding with a wink: "I've not really been known for being a goalscorer so far!" The defender had scored twice for English second-division side Preston North End in 2021/22 (once in the league cup and once in the Championship) – his only previous goals in professional football.
The Dutchman isn't opposed to adding a few more to his tally in the future. However, the success of the team is what the defender ranks as his highest priority. "We work hard and know that we still have four tough games ahead of us. But, I believe in us. We're a team and we stick together. Nothing is impossible in football, especially not with fans like ours. I'm a firm believer that we will achieve what we've set out to do."
✎
✓