Focus turns towards Frankfurt: Cut out mistakes, take chances
The Royal Blues' biggest shortcoming in the friendly match against Werder Bremen (14/1) was the missed the chances, especially in the first half. Several mistakes led to the only goal of the day by Niclas Füllkrug. The Schalke players could, however, take some positives over the course of the game against Werder.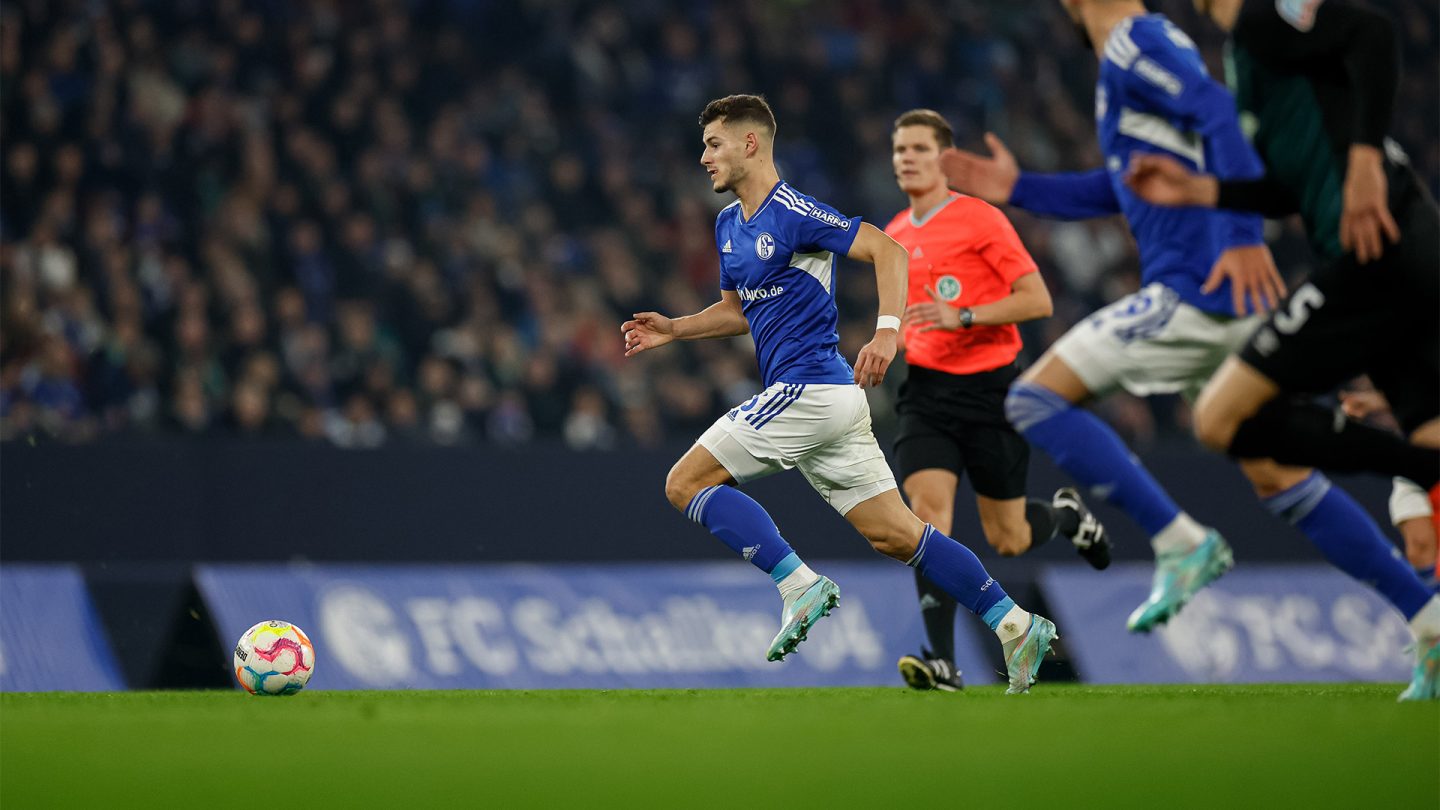 "Creating chances is essential for scoring a goal," said Cedric Brunner, who is convinced that the team will soon be rewarded with goals again. Fellow defender Henning Matriciani sees it similarly: "The chances are there. We just need to work on getting even better. Then we will also score the goals," said the central defender. "It would be important for our strikers if the ball just crossed the line," Matriciani added after the second friendly match in a row without a goal.
Krauß rues wasted headed chance, Brunner "stupid goals conceded"
"We have to score in the first half," Tom Krauß also stressed, who was particularly annoyed by his own missed chance in the 26th minute. He found himself with a free header six meters from goal off a Danny Latza corner, but sent the ball over Jiri Pavlenka's goal.
While the Knappen couldn't find the net despite several good chances, especially in the first half, Niclas Füllkrug made it 1-0 to Bremen in just the fourth minute – the only goal in the match. "We have to be much tighter at the back," Cedric Brunner demanded of himself and his teammates. The team had not allowed too many chances in the friendly matches, but "conceded really stupid goals due to simple mistakes and set pieces. We have to stop doing that as soon as possible, because it will be punished straight away in the Bundesliga."
We will take the things that we have done well into next week and go into the game against Frankfurt with our heads up.
The Knappen will not dwell too long on the game against Bremen. Following the video analysis, the focus will be on the game at Eintracht Frankfurt, which kicks off on Saturday (21/1) at 15:30 CET. "We will take the things that we have done well into next week and go into the game against Frankfurt with our heads up," stressed Tom Krauß. "We're looking positively ahead. The ball will go in next week."
Forget the friendly matches, focus on Frankfurt
Cedric Brunner also doesn't want to attach too much importance to the recent results. "Not only can a win, but also the way you play give you confidence. Friendly matches are also about putting certain things into practice that we've worked on. We've certainly made progress in that respect, we've trained and practiced a lot of things", said the Swiss, adding with a view to the first Bundesliga match of the new year in Frankfurt: "Ultimately, results in friendlies don't mean anything in terms of the league. Next week we get down to business!"
✎
✓