Rouven Schröder: Less talking, more doing
Among the 1,000 people in attendance as Schalke began pre-season training on Wednesday (22/6) was Rouven Schröder. The club's sporting director spoke afterwards about a fresh start after promotion, transfers and superman.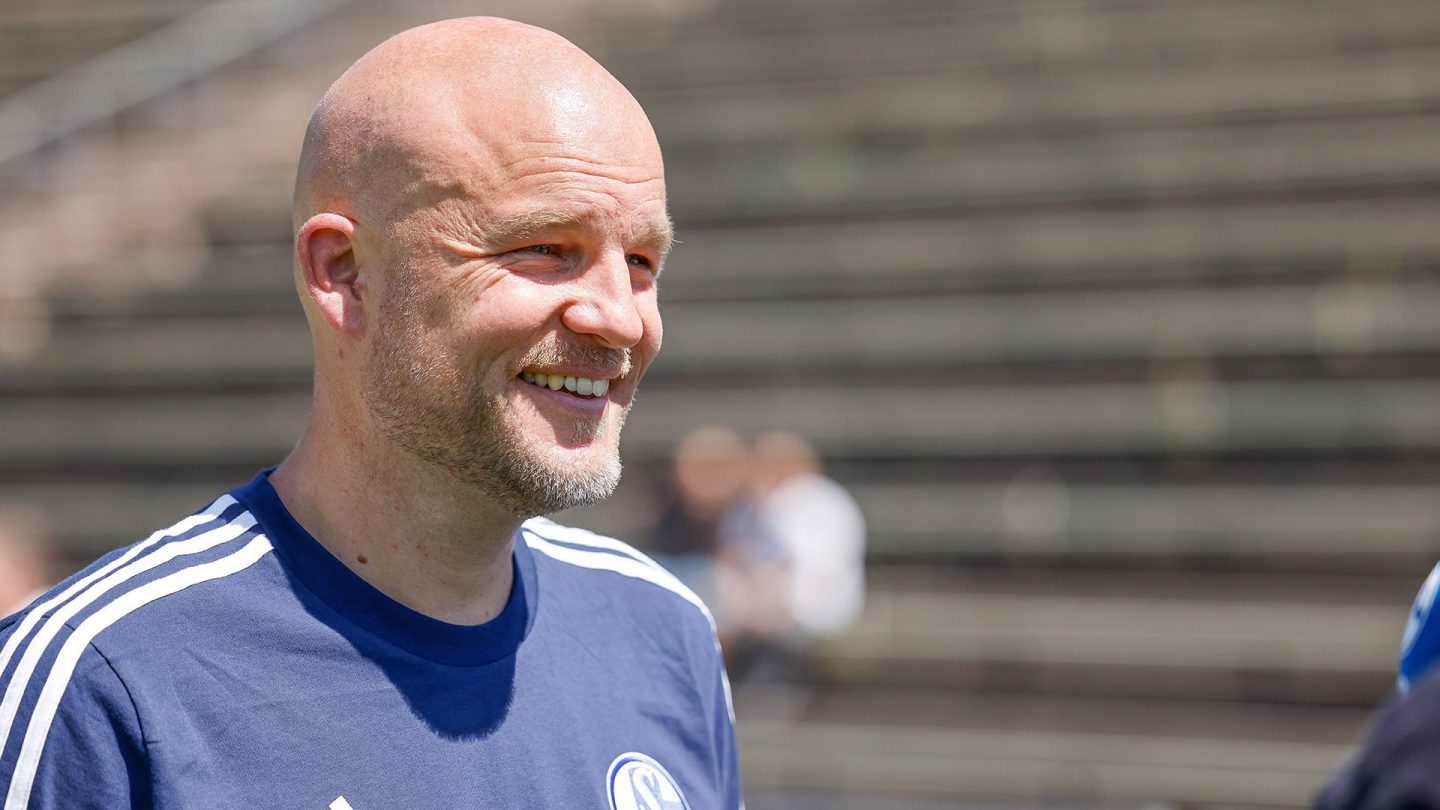 Rouven Schröder on…
…the first training session on the pitch:
It's always a bit like the first day of school. Everybody looks at you with wide eyes, nobody has their grades or normal seats and everyone is in a good mood. We've got a new kit supplier too, the sun was out, the fans were back. All these little things just make you excited for more.
…the new challenge of the Bundesliga:
Despite all the excitement, it's obviously still an intense time. We spoke about basic things, including how we should always maintain our togetherness, even with competition for places and things like that. We can be proud of what we achieved last season, but we've drawn a line under it now. This season will be really tough. Our aim is to stay up, that's the most important thing. As a result, this togetherness will be needed now more than ever.
We can be proud of what we achieved last season, but we've drawn a line under it now.
…the new head coach Frank Kramer:
Frank told the players and staff what's important to him. One thing is the aforementioned togetherness, another is the hierarchy. He wants less talking and more doing. The club will always be the most important thing, but the coach is vital too. They need to be someone that listens to other opinions and people. It doesn't matter if Mike Büskens is in charge of a group or Matthias Kreutzer is, or even if Frank is observing, I don't want anyone to feel like they need to get involved in a group because they're the big boss, we don't need that. Frank won't play up to anyone, he's an authentic guy and has worked hard to be where he is. Bigging yourself up and acting like superman won't help anyone if we're sat there after losing three straight games.
…the players returning from loans:
We're in regular contact. They will return over the next two weeks, but there will be some movement and some might not even return. His year at Olympique Marseille did Amine Harit the world of good and it's great for Ozan Kabak that he's fully fit again. Rabbi Matondo had a really good season too. Those are our three heavyweights, so to speak. I can't work miracles and with our cost structure you often can't make quick decisions. One thing is for sure and that's that there won't be two separate training groups here. We will ensure that every single player is integrated in the same way as last season, when the lads all got on and worked together in a professional manner, even if one wants to be a regular here and another wants a new challenge. We will continue working on this transparently and won't allow any forms of cliques or small groups.
There won't be two separate training groups here.
…squad planning:
There is some talk about the right-back position, but we just want to train first. Memo Aydin is someone who has signed a long-term deal and has already played in the Bundesliga. Everyone will get their chance to impress. Our main aim is to strengthen the core positions of the team and we're in talks about new signings. Nobody should fear competition, after all, it only helps you improve.
…the potential signing of Darko Churlinov:
Darko had a great season here and really identified with the club. The fact that he really likes Schalke speaks volumes about him. We wanted to keep him, but only on the conditions we could offer. He's under contract in Stuttgart, so it's completely fair that VfB have the ball in their court.
…integrating some academy players:
We're pleased that Sidi Sané was training with us, as well as Niklas Castelle and Tjark Scheller from the U23s. We've often looked to get talented youngsters involved, for example during international breaks or final training sessions before games. If a lad has quality at S04, they certainly won't be held back by us. I watched the U23s train and there are some really good lads looking to impress. We have to be careful, however. They will get chances with the first team and then go back down to the U23s. That can affect them mentally and they have to learn how to deal with that.
…his personal focus:
I'm generally a positive guy, but also a fighter. I will believe avoiding relegation is our goal right until the end. If you, the 'bosses', aren't confident, then what will the players be saying? We will lead from the front and by saying that avoiding relegation would be as big as promotion I'm not talking us down, it's simply the reality. We have to make do with a certain budget and that's a new thing at Schalke. When you play a team with a much bigger budget, it'll be clear who the favourites are. I'm comfortable with this kind of challenger role. Coming onto the pitch and hearing the fans applaud you is the best reward. We need to continue earning this support and we need our fans to see that our lads will do anything for them. We want people to get the feeling that when you come to Schalke it's going to be crazy.
✎
✓