Alexander Schwolow: The combination of stadium and atmosphere here is fantastic!
Our training camp in Mittersill is offering Alexander Schwolow the opportunity to get to know his new teammates a little better. The goalie, on loan from Hertha BSC, appears to always be in a good mood and is always open and communicating during sessions and after. He gives an interview to schalke04.de talking about his start to life in Gelsenkirchen, working together as a goalkeeping unit, life outside the white lines and the atmosphere inside the VELTINS-Arena.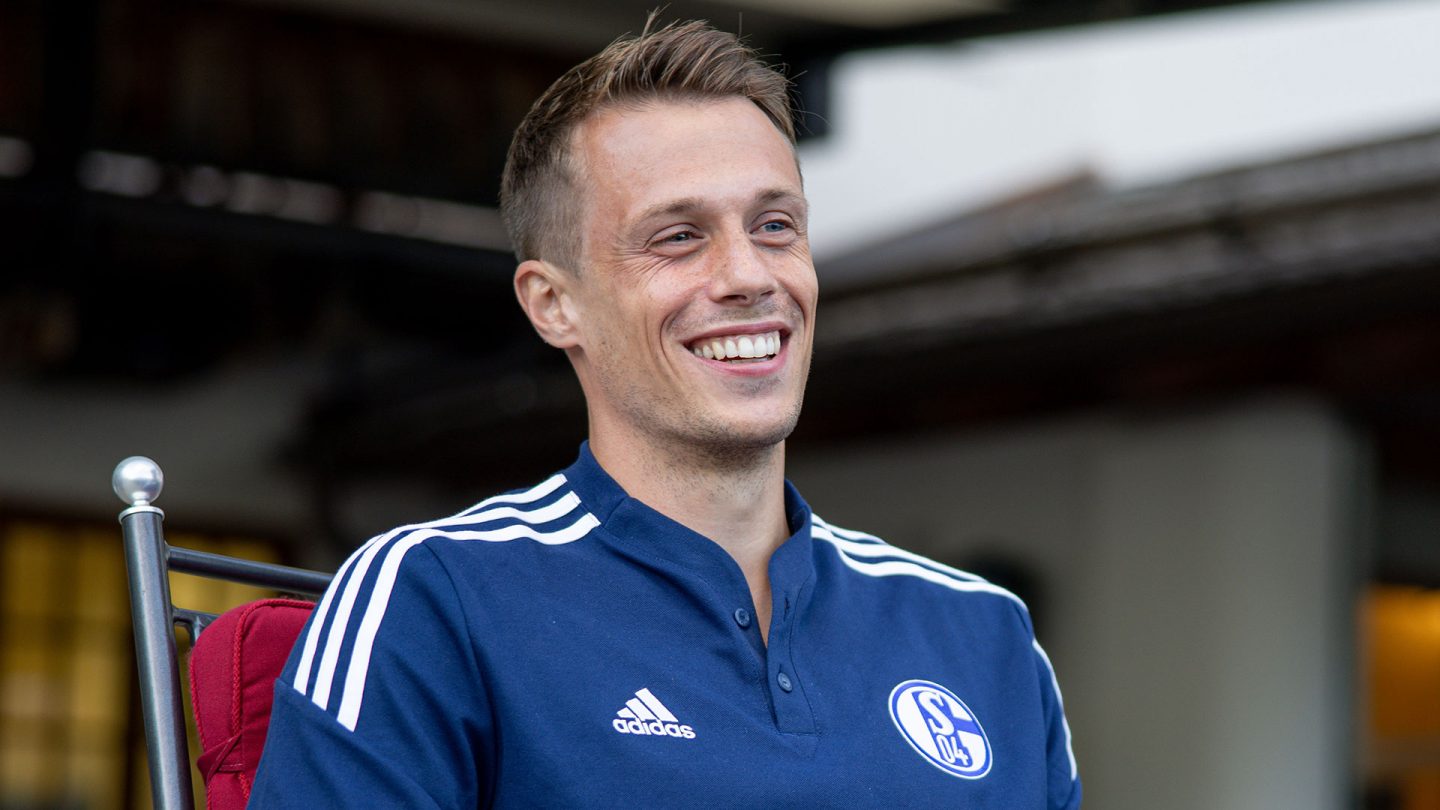 Alexander, the fourth week of preseason is now in full swing – and it's also your fourth week at the club. How have you found things so far?
It's been unbelievably fun being a part of this group. And I don't just mean the squad but the whole team behind the team too. Every single person is so nice, so open. So I felt at home right away.
When we watch you in training it feels like you've been at Schalke for much longer already. Some evenings you play table tennis with your teammates or you sit with various members of the squad or the coaching staff just chatting away. Is there anybody in the squad that you know from a previous club?
Just the one, actually: Marvin Pieringer. I know him from Freiburg. So for me the training camp is ideal in more ways than one, firstly to train but also to get to know my teammates and the staff a bit better.
Have your teammates already heard your go-to karaoke choice then?
You're asking because of the tradition that new signings have to sing on their first evening with the team? (laughs) No, that hasn't happened yet. But I'm ready, don't you worry. (smiles) I don't want to tell everybody what I'm going to sing though. It's important to choose a song that everyone can join in with.
It's important to choose a song that everyone can join in with.
Have you already found a new home? Or are you still living out of a suitcase in some Gelsenkirchen hotel?
My partner, my daughter and I have moved into a semi-detached house near Gelsenkirchen. Thankfully that all went really quickly. For me it's really important to have my family around me. I'd never be able to manage without them.
Have you been able to do a bit of exploring of the local area in your first few weeks here?
We've been a bit short for time. We've visited a few restaurants in Gelsenkirchen and Recklinghausen which were all great. I've also cycled through Buer and had a look around. We've already thought about what we're going to do over the weeks and months to come. A visit to the ZOOM theme park, for example, would be really exciting for my 18-month-old daughter. I myself definitely want to see a coal mine and immerse myself in the history of the region.
You chose the number 13. Does the number have any special significance to you?
My daughter was born on the 13th of the month so I was happy to see that the number was free and available for me to choose.
It's no secret that you almost became a Royal Blue two years ago. Did that cross your mind when the new inquiry came from Gelsenkirchen a few weeks ago?
I was really happy. My situation in Berlin wasn't easy and so this sort of resolve grew in me after Schalke called: I want to do this. My talks with Rouven Schröder reinforced my decision, they were really convincing. I felt that the club valued me a lot and there was just his easy chemistry between us. On top of that I'd already done my research on FC Schalke 04 in the past.
I felt that the club valued me a lot and there was just his easy chemistry between us.
When Rouven Schröder announced your loan signing, he said that you had agreed to take a large pay cut to join.
Yes, that's true, but I didn't really want it to be mentioned – I would rather it wasn't a big issue. The main thing that interested me was my desire for a change of scenery following two less-than-easy years at Hertha BSC.
What are your aims while at S04?
The main, most important goal is to stay in the Bundesliga. We need to give our all and work together as a team in the difficult times. As a goalkeeper, I want to concede as few goals as possible and do my bit to help the team to success.
Frank Kramer has underlined that you're planned to be the number one between the sticks next season. How important is it for you to feel that trust from the coach?
It's a great feeling, no doubt about that, but on the other hand I now have to repay that trust placed in me. I can't just rest and relax; every day is a new challenge which I have to do my best in and will try to do just that!
There are a total of four goalkeepers in the Union this season. How are you getting on with Ralf Fährmann, Justin Heekeren and Michael Langer?
We're in good harmony. I'm not the type of guy to get my elbows out and play poor balls to my teammates to make them look bad, actually the opposite is true: we all want to improve ourselves every day, and we push each other in every training session to that end. At the end of the day, it's not about individuals here – it's about the success of the team and the club as a whole.
You worked with goalkeeping coach Simon Henzler a couple of years ago. How did you find his coaching?
He's a real goalkeeping specialist and knows just how important it is to develop every player and every part of their game. Simon is very eager to learn, and always looks around to add knowledge to his own coaching, so he always has his own ideas. Simon is one of my most important points of reference because he, along with Ralle, Justin and Michi, are the building blocks for our performances in-game.
Up until the U13s, I was an outfield player.
Can you quickly describe your style of goalkeeping for us?
I don't work in chaos, I have a quiet style. Through my way of communicating, I try and help the lads in front of me. I also see a couple of my strengths in one-on-ones and my reflexes.
Have you always been a goalkeeper?
No, I wasn't. Up until the U13s, I was an outfield player, but after joining SV Wehen Wiesbaden I moved back between the sticks. I think my time as an outfielder has helped me in certain situations, such as when I receive a back-pass and the opposition striker is pressing me.
Did you have any idols or role models growing up?
There are a few goalkeepers who inspired me. Above them all is Gianluigi Buffon, who has had an incredible career and is still playing regularly aged 44! I've also always followed the German national team goalkeepers closely. Since turning 15 or 16 I started concentrating on my own game as a priority, but I still look at how other goalkeepers react in certain situations now and again.
When you first spoke to us, you praised the VELTINS-Arena massively. What makes our home so special?
Playing as the away team in Gelsenkirchen was always a crazy experience – the atmosphere was just unbelievable, as was the stadium itself. The combination of stadium and atmosphere here is fantastic! When I was at the VELTINS-Arena a couple of weeks ago for Media Day, I imagined how it would be to come out of the tunnel as a Schalker and absorb the atmosphere. The match against St. Pauli last season was a great example of the energy which you can generate here. It's not just at home, though: I remember watching the away game against Sandhausen near the end of last season. The fans truly live for this club, and I'm really looking forward to becoming a part of that.
✎
✓