Reinhold Ranftl: It helps me and it helps Memo
Reinhold Ranftl's clever pass from the right-hand side set up Marius Bülter's backheel effort, the best goal of FC Schalke 04's 5-2 victory over SV Sandhausen. In an interview with schalke04.de, the Austrian spoke about getting his first assist for the club, the upcoming duel with FC St. Pauli, his compatriot Guido Burgstaller and his competition for a starting place with Mehmet Can Aydin.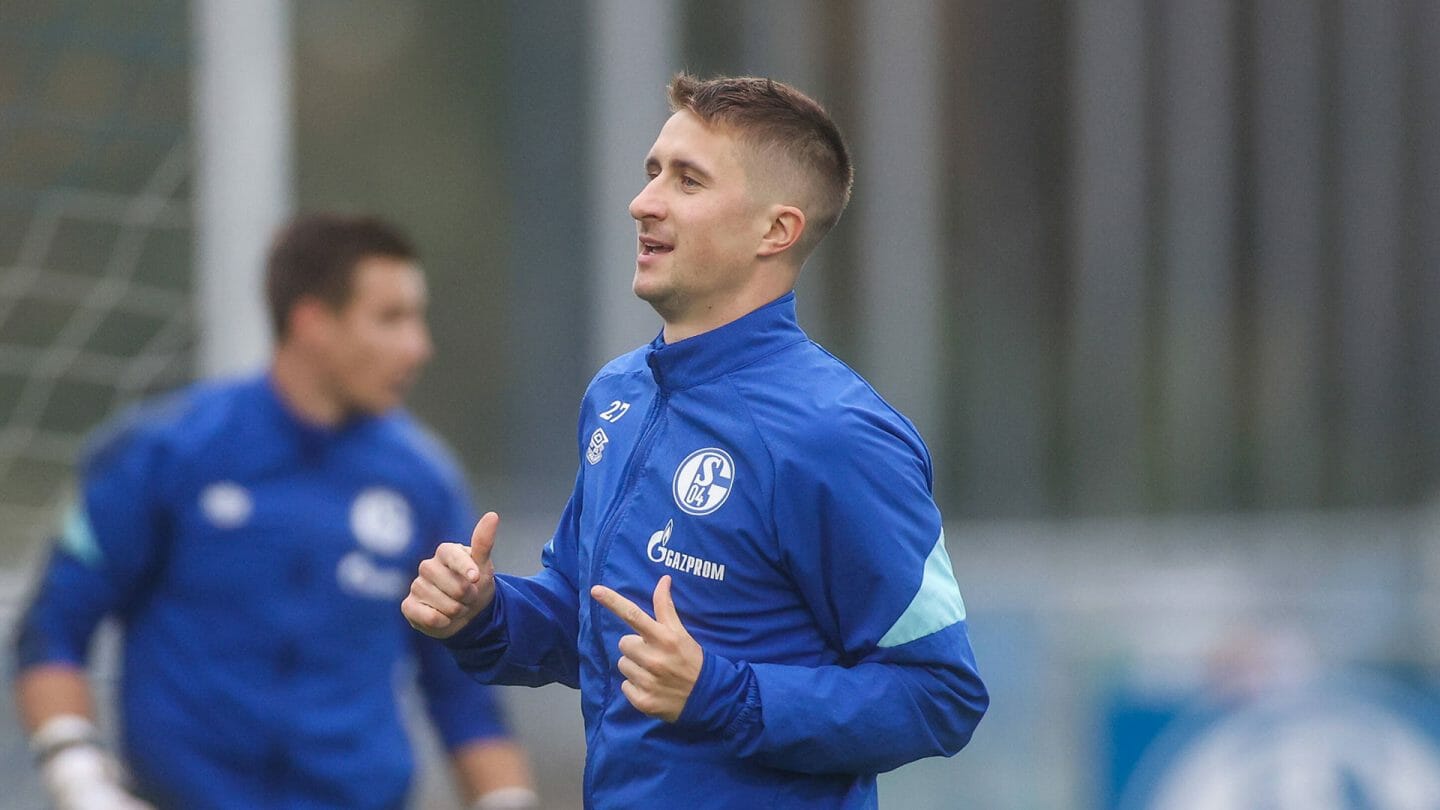 Reini, has Bülti bought you a drink yet for assisting that goal at the weekend?
After full time there was actually a soft drink waiting for me at my spot in the changing room, but I'm not sure if that was from Bülti, I think it might have come from Rouven Schröder (laughs). But Bülti doesn't owe me anything, because I'm just glad I could help the team by providing the assist. Bülti converted the cross brilliantly, and it was a spectacular goal.
You did lots of other things well in the game besides your assist, but you also gave away the ball which led to Sandhausen opening the scoring. In terms of the strong reaction the team showed after going 1-0, what does that say about your character and spirit?
I was caught in possession for their first goal. Mistakes happen, even in football, but I think I personally reacted well. Before then, we were by far the better side – but then it's the 47th minute and Sandhausen have a 1-0 lead. As a team, however, we showed good spirit and were able to turn the game around. All things considered, it was a deserved victory.
The top of the table is very tight at the minute, are you always keeping an eye on the current standings?
I'd be lying if I said that I don't check the table after our matches, even though we should be taking each game as it comes, because it doesn't matter what position you're in after 15 matches but after 34 matches. It's important for us that we stay in and around the top of the table and put up a real fight to stay there. There are lots of sides around us in the table on similar points. We need to make sure we are picking up points every week.
It'll be an exciting challenge, and we're going to prepare appropriately for it.
You've got a huge game coming up on Saturday evening against St. Pauli, who have won every single home game so far this season. How are you going to break this record?
It's a remarkable record that they have, and it says a lot about FC St. Pauli's quality. However, we will work out a good plan for the match so that we can be the first side this season to take points away from the Millerntor-Stadion. It'll be an exciting challenge, and we're going to prepare appropriately for it.
One of FC St. Pauli's start players is your fellow compatriot Guido Burgstaller. Do you know him well?
Guido Burgstaller is obviously very well-known is Austria, but I have not yet had the chance to meet him personally. He's having a great season so far and adds quality to St. Pauli's style of play. He's also got a great eye for goal – he doesn't think about it too much, he just sticks it in the back of the net. He's a strong dribbler and he fights from the first until the very last minute. He'll want to do all of that in the game against us, especially given that he's a former Royal Blue which will give him extra motivation for the match, but I'm sure that we will be able to stop him and his teammates from running rings around us.
Your top scorer this season is Simon Terodde, who will be unavailable until after the winter break due to a muscle injury. How did this news affect you?
Simon's injury is a bitter loss for the team, but it's nothing that we can't cope with. Marvin Pieringer played really well against Sandhausen, and when he came off the bench in the last few games he brought fresh legs and good energy onto the pitch. We will deal with Simon's injury as a collective unit, but at the same time we're all hoping that he can make a quick return to the team.
You've been in competition with Mehmet Can Aydin each week for a place in the right-hand side of the starting XI. What's your relationship like?
Memo's a good lad with a good personality. Of course we'd both like to play, and so we both give it our all in training. It helps me and it helps Memo, so we'll both become better players. It's a good challenge for me. If I get a chance come the weekend, then I'm happy and I give 100% to help the team succeed. If Memo gets the nod, then I hope that he plays well, because we all share the same collective goal – we both want the team to do well.
✎
✓