Together in friendship – Schalke present new away shirt together with 1. FC Nürnberg
FC Schalke 04, adidas and 11teamsports present the club's new away kit. This shirt is the final one to be released ahead of the 2022/23 season in the Bundesliga.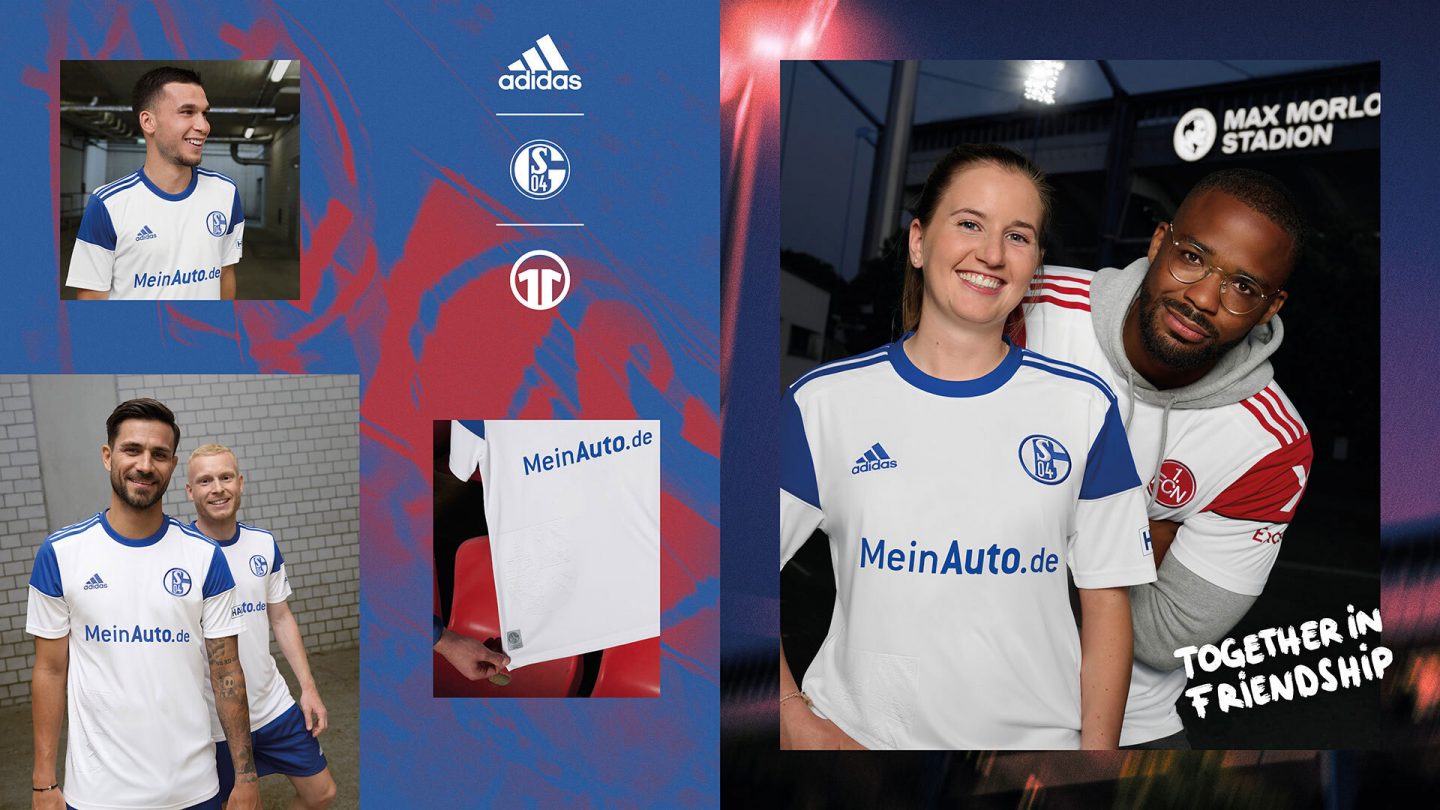 The new away shirt has been launched together with 1. FC Nürnberg under the motto "Together in friendship." This underlines the biggest fan-friendship between two German clubs as both away kits for the new season have the same design. The Schalke version is white with the three adidas stripes in Royal Blue and two blue bands on the sleeves. The neckline is also Royal Blue. The adidas logo is embroidered as usual and the S04 badge is woven into the shirt.
A particular highlight is the Gelsenkirchen city arms on the bottom left of the front of the shirt. Another feature is right beneath that – a hologram emblem with the logo of both clubs. The FCN shirt is also white, but the blue parts are instead red and the shirt also features the Nürnberg city arms too.
There has been a unique friendship between Schalke and Nürnberg for over 40 years now.
Sebastian Buntkirchen, director of fan and club affairs at FC Schalke 04, commented: "There has been a unique friendship between Schalke and Nürnberg for over 40 years now. This connection is shown by not only launching the kits together, but also by the innovative elements on the two shirts. These individual elements make both jerseys unique and help to display the history between Royal Blue and red."
The Schalke players will wear Royal Blue shorts with white stripes and white socks together with the new home shirt.
The new home shirt is available from Friday (15/7) in both men's and women's sizes for €84.95. Children's shirts will cost €64.95. All shirts will be available on shop.schalke04.de/en and in all Schalke fan shops. Fans can also purchase the home and third shirts from Friday too. All three kits will feature the new main sponsor MeinAuto.de on them.
Delivery information
Due to the brand-new shirt sponsor, delivery of home and third shirts can take up to 14 days – personalisation of the shirts can increase the delay too. Away shirts are likely to be dispatched from August. All three jerseys are available now in fan shops in Gelsenkirchen and Oberhausen.
✎
✓