Tom Krauß: A win would have meant more to me than my first Bundesliga goal
It was a hard-fought match against FC Augsburg at the VELTINS-Arena on Sunday, with the away side taking three points back to Bavaria. Schalke head coach Frank Kramer and Enrico Maaßen, who is in charge of Augsburg, as well as Schalke's goalscorers Simon Terodde and Tom Krauß gave their thoughts on the match after full-time.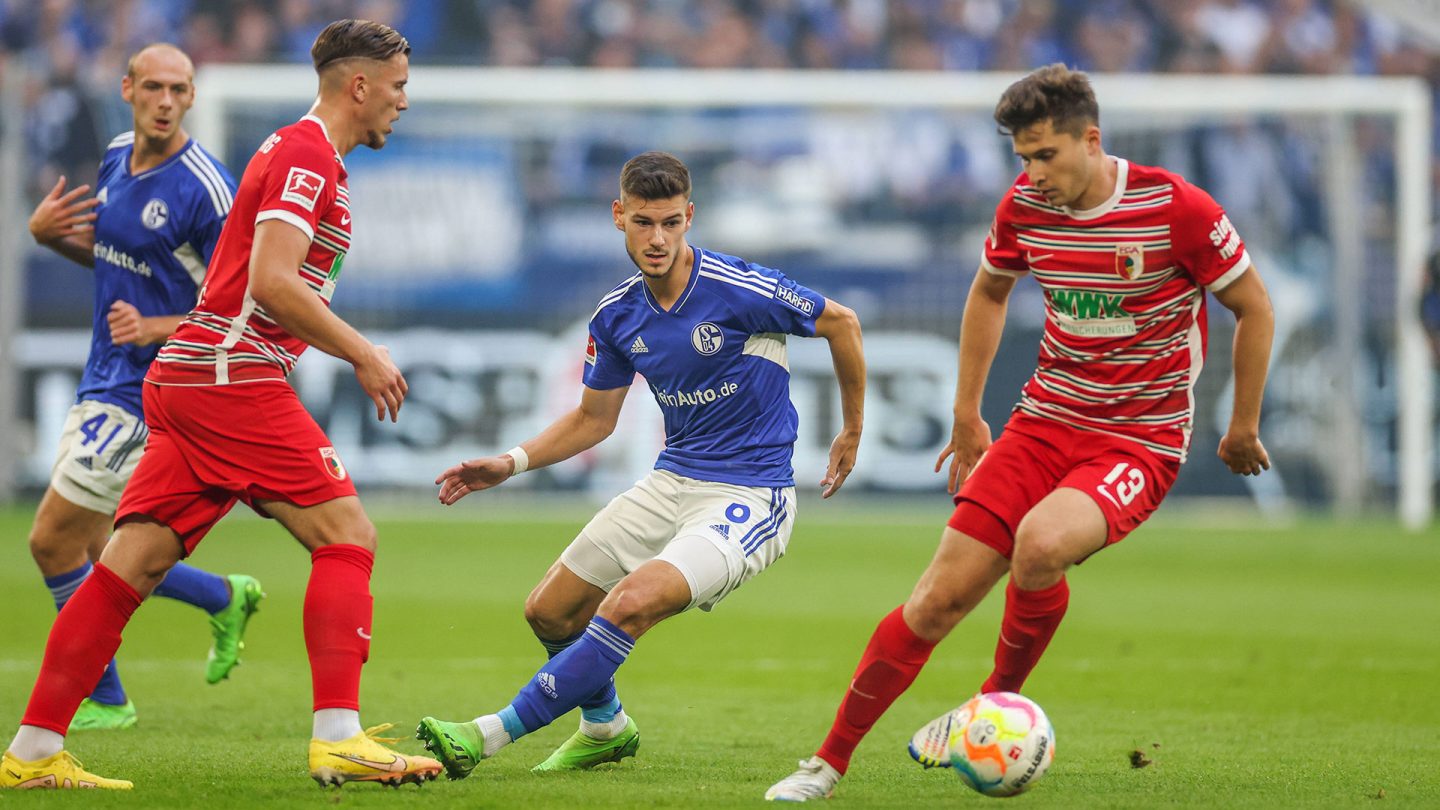 Frank Kramer:
We're very disappointed. We fought back after going 2-0 down, gave a great effort and invested a lot of energy, which was brilliant to see. Augsburg were, on the whole, very efficient, and we should have done more in the final 20 minutes when we had the extra man. We rushed lots of our play and tried to force it instead of keeping calm. That played into the hands of Augsburg somewhat. They get their chance and are able to turn the game back in their favour. A better result for us today wouldn't have been undeserved.
Enrico Maaßen:
I'm very happy that we were able to win the game today. It was a feisty match, and I think we played very well in the first half. In particular, we were very srong in the opening 25 minutes, but then we started to drop deep a little bit and Schalke started to come back into it. The red card was obviously a significant moment in the game, and their equaliser was a real setback for us. However, the way in which we didn't let that bother us was really good. We showed an amazing mentality and defended almost everything superbly.
Tom Krauß:
It's an extremely painful defeat. We got back in to the game after going two goals down, and after they went down to ten men we found ourselves in a great position. However, we shouldn't be allowing teams to regain the lead after they get a man sent off against us. We didn't defend that goal at all well as a team. Their third goal hurt a lot. Although we exerted lots of pressure on our opponents after they got a man sent off, we didn't really create any good chances. We have to accept responsibility for this. I can't really enjoy my first ever Bundesliga goal, either. I would have preferred to have not scored were it to mean we were celebrating a win instead. But, we need to now look forward to our next game. We need to keep our heads up and stick together as a team.
Simon Terodde:
When you come back from two goals down and then the opposition go down to ten men, things are certainly going in the right direction. However, instead of going on to score again we conceded a third goal. We kept on going until the seventh minute of second-half stoppage time, but in the end we were lacking that final pass. I'd like to take this time to pay a huge compliment to our fans. They pushed us on throughout the entire match, and I personally got a real boost from their support. Even though it's a painful result, we're looking forward now and still believe in ourselves. You can feel annoyed about today's game for maybe the next 24 hours, but then it'll be about looking ahead and continuning to give it our all.
✎
✓