Frank Kramer on organisation on the pitch and finishing quality
A dream free-kick, a sideways scissor-kick and a display of individual quality shortly before the final whistle – these were the three moments on Friday (22nd July) which handed a 3-1 loss to FC Schalke 04 against Dutch top-flight side FC Twente in the final pre-season friendly before competitive matches kick off. The two goals conceded in the dying minutes of the match are what frustrated Frank Kramer.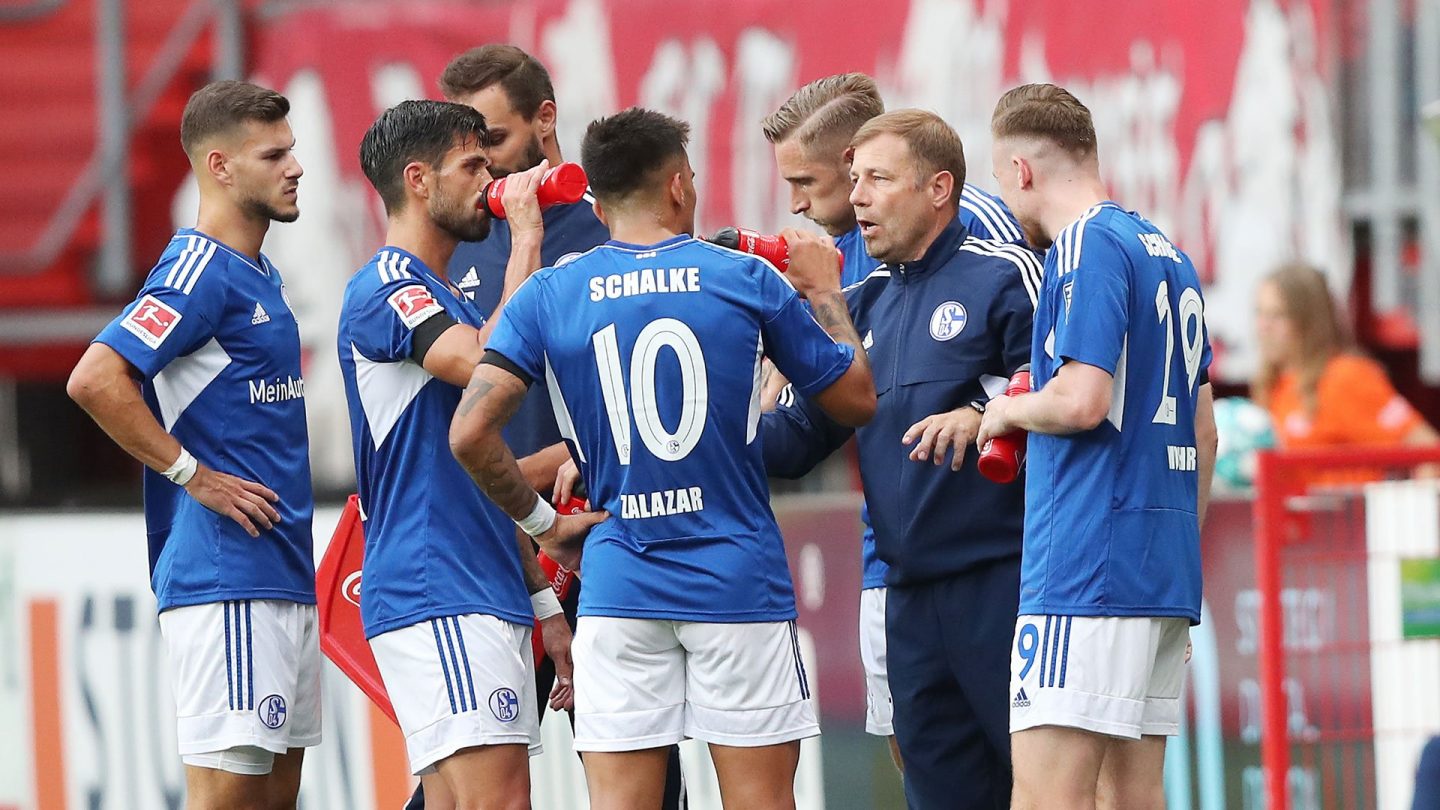 "Those were two situations in which we didn't defend well in our own box even though we had superior numbers," says the Royal Blues' head coach in his analysis. "Without these two goals, it would have been a thrilling game with an appropriate result." It was an energetic 90 minutes in the Grolsch Veste, especially in the first half. 26,000 spectators made sure of a good atmosphere and before the break, both Kramer the players were delighted to see multiple good chances.
Marcin Kaminski scored the opening goal after just nine minutes with a header. The "Tukkers" equalised less than four minutes later with a dream free-kick from Michel Vlap, which left Schalke's coach frustrated, who called the effort, which flew precisely into the left corner a "goal of the month".
Had we been calmer in the last few moments, then there would have been more than just one goal in it for us.
Despite scoring the opening goal, his team needed something more in order to find the right system in that phase of the match, explains the 50 year old. "After around half an hour we started to attack with more confidence, we won more and more possession, we switched well and had lots of chances. But had we been calmer in the last few moments, then there would have been more than just one goal in it for us.
Starting XI with a view to the DFB-Pokal game
After the change of ends, the Royal Blues then needed to ramp up the intensity again in order to get a good grip on the match. Nevertheless, Kramer thinks that the organisation on the pitch is improving. He also found praise for Alex Král, who – excluding the training match against FC Kufstein – was making his debut in a Schalke jersey. "He was on it straight away. You can see that he's a good player. Alex had good presence on the pitch and put in a very decent performance," says the head coach.
The coach says that he decided the starting XI with a view of the start of the 2022/23 season. Nevertheless, it does not mean that the 11 players who started the friendly will also start against Bremer SV. "Bit by bit towards the end of the pre-season, a regular starting line-up needs to be realised. It can however be useful for each individual to fight for their place," says the coach.
✎
✓