Florian Flick: I can hardly wait to be playing Bundesliga football in front of a sold-out crowd
Featuring for a total of 1,397 minutes across 27 different league matches, Florian Flick established a regular spot for himself in the FC Schalke 04 side this season through consistent and strong performances. The midfielder, who suffered a nasal wound against FC St. Pauli in December 2021, played in each of Schalke's final 12 league matches and made a considerable contribution to us winning the Bundesliga 2 title. In an interview, the 22-year-old spoke about the title win, how pleased he is to be called up to the Germany U21 Men's national team squad, and his personal development.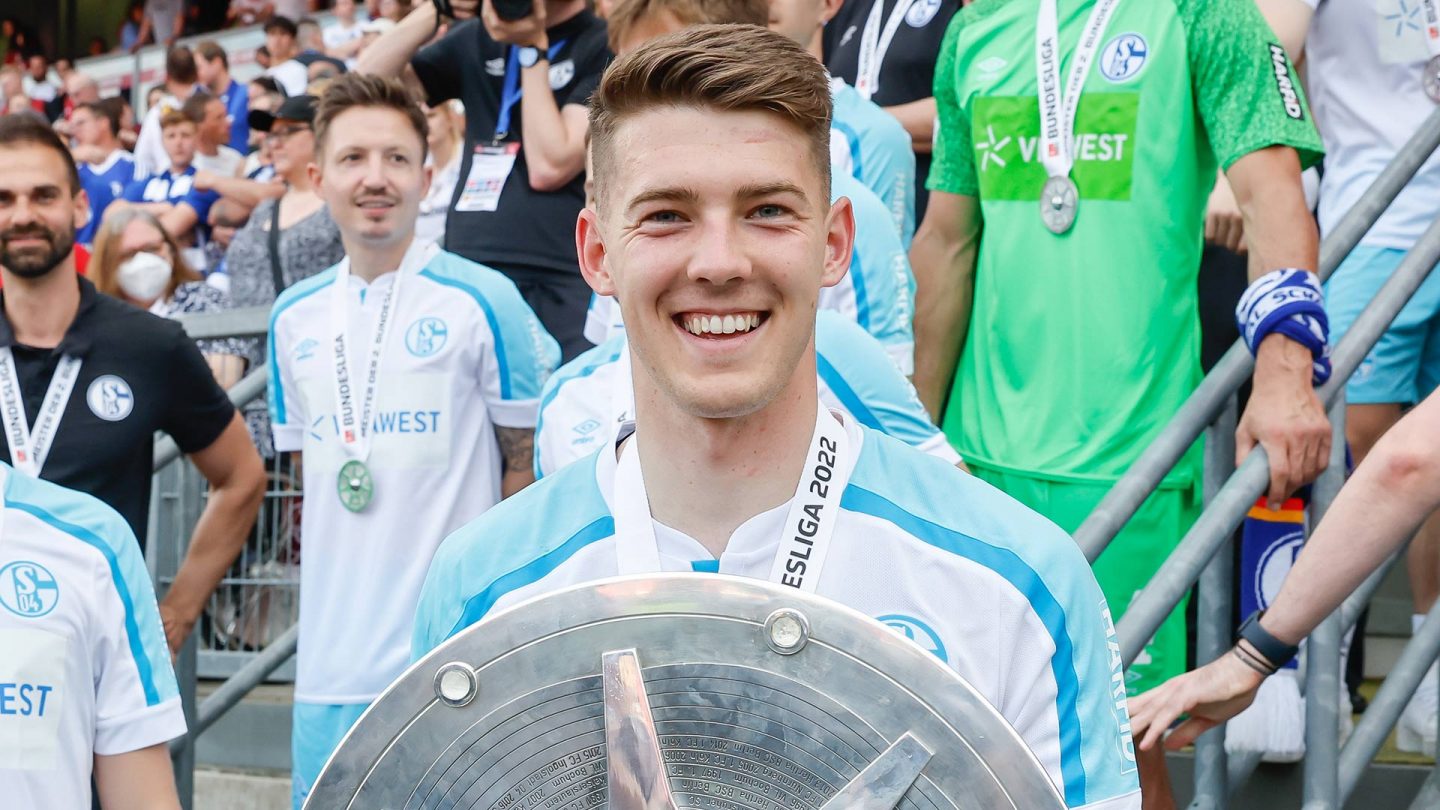 Florian, you're a Bundesliga 2 champion. How does that feel, even a few days on?
We're only just coming to terms with the fact that we won it now. Of course, we were thrilled after full-time in Nürnberg, but now we need to let it all sink in. We're only just realising now exactly what we've achieved this season.
How was important was the team's spirit en route to the title?
Hugely important! A prime example of this would be in the game against St. Pauli, when we were 2-0 down at half-time. During the break, we said to each other that if we keep sticking together and put up a good fight, our quality will see us turn the game around. And, as a team, we did that very well.
If you had to pick out a highlight from the season, what would it be?
I'd say I have two. Firstly, the game against St. Pauli, during which we sealed promotion. Secondly, the day that I extended my contract until 2024.
We're only just realising now exactly what we've achieved this season.
You've now got your next career highlight, having been selected for the Germany U21s for the first time.
It's a huge honour to be called up to a Germany national team squad for the first time. Germany U21s head coach Antonio Di Salvo rang me up and told me he'd like to have me in his squad for the upcoming qualifiers against Hungary and Poland, and then came the official invitation from the DFB.
How much are you looking forward to it?
A lot! It's the first-ever time I've been called up to a national team squad. I think I'll settle in well, given that I already know Malick [Thiaw] from club football.
After the international matches, it'll be a time for a well-deserved summer break. What are your plans?
Nothing's set in stone yet, but I'm definitely travelling somewhere that's hot and has a beach. My girlfriend and I will enjoy a few days there before I start thinking about next season.
You don't just get gifted 27 opportunities to play.
You've made 27 Bundesliga 2 appearances this season, and featured very frequently in the starting XI during the run-in. How would you personally evaluate these past few months?
I think it's been a positive few months. You don't just get gifted 27 opportunities to play. I think I've come on very well this season, and I'm happy to have been able to help the team.
Which aspects of your game do you think you've improved, in your opinion?
To begin with, it took me some time to adjust to the physical demands of the Bundesliga 2. I've definitely improved in that regard and feel a lot more comfortable on the pitch with a new robust playing style.
Your first full Bundesliga season starts in August: How much are you looking forward to 2022/23?
I played four matches in 2020/21, but unfortunately there weren't any fans there to see it. Now we're back to Bundesliga football in sold-out grounds – I can hardly wait!
✎
✓