MeinAuto.de is the new main sponsor of FC Schalke 04
Buckle up, set off and get there together. MeinAuto.de and FC Schalke 04 have entered a new partnership that sees the German market leader of online new car sales become the club's new main sponsor adorn the matchday jersey.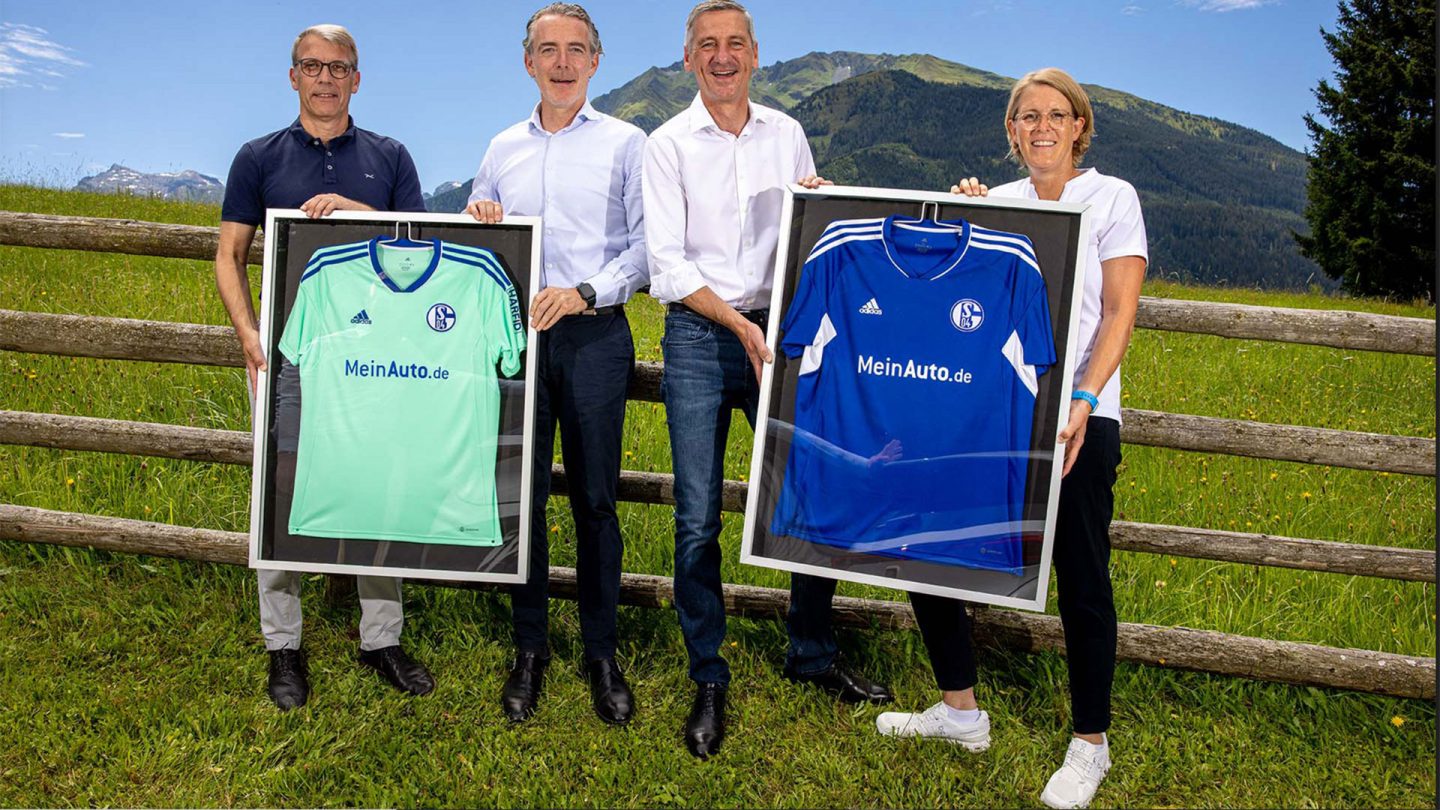 The Cologne-based company will also receive extensive advertising rights, including TV-relevant presence on matchday, a cross-media presence on the club's digital channels as well as joint projects in the E-sports sector.
In MeinAuto.de, we have been able to add a strong partner for our challenge in the Bundesliga.
"In MeinAuto.de, we have been able to add a strong partner for our challenge in the Bundesliga. It's the first time the established company is entering the world of sports sponsorship, so we are particularly pleased that they have chosen Schalke 04. MeinAuto.de has set itself the goal of revolutionising the process of buying a new car for the customer, simplifying and optimising it. We are glad that we can use our reach to support the company," said Dr. Bernd Schröder, FC Schalke 04 CEO. "In addition to the classic elements of sports sponsorship, MeinAuto.de will also benefit in particular from the club's digital assets. With many millions of followers, creative productions and our possibilities in video sector, Schalke 04 offers exciting and high-reach options for brand presentation. Therefore, we are extremely pleased that the core values of Schalke 04 and MeinAuto.de fit so well together."
FC Schalke 04 have shown how great things can be achieved with the courage to change.
Rudolf Rizzolli, CEO of MeinAuto Group AG, explained the motivation for becoming the club's main sponsor. "FC Schalke 04 have shown how great things can be achieved with the courage to change. With a clear goal in mind, Schalke quickly got going and overcame the hurdle of direct promotion back to the Bundesliga at the first time of asking. It is a great success not only for the Schalke fans, but for German football as a whole. At MeinAuto.de, we have an equally clear vision. Over ten years ago, we started our journey to offer all new car customers in Germany a new and better deal – with more transparency and greater choice, better prices, very good advice and simple processing. We also have moved really quickly with that. More and more customers are recognising the advantages of MeinAuto.de and have made us the market leader in German new car sales. Through this outstanding partnership, we hope to reach even more people and make MeinAuto.de even more well-known. We are proud to officially be on board with Schalke in the Bundesliga."
The contract will last up to three years. Schröder and Rizzolli explained together: "We are convinced that the partnership offers a lot of potential for both sides and is therefore a long-term vision. At the same time, we have consciously decided to build an element of flexibility into the contract for both partners."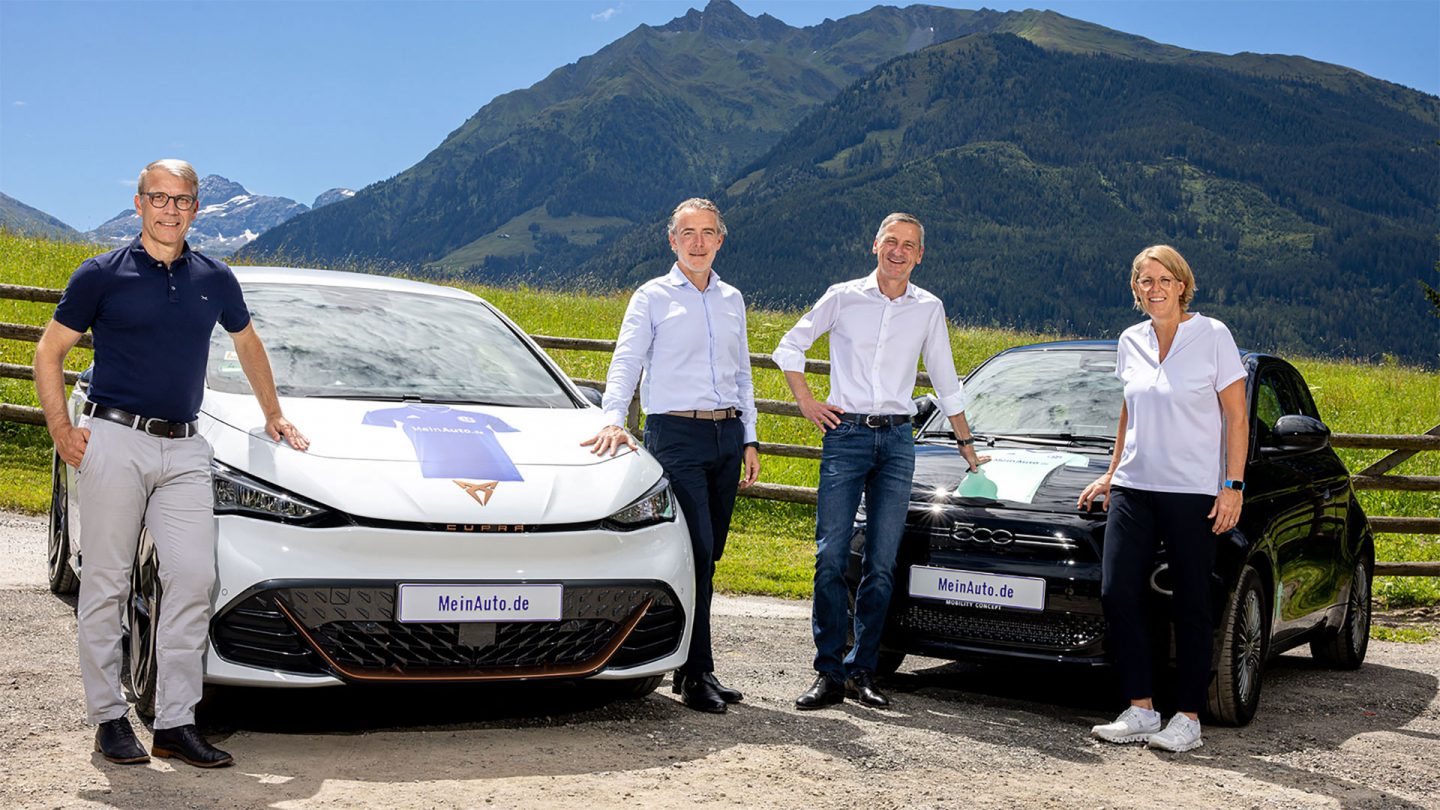 Leading online platform in Germany
MeinAuto Group is the leading online platform for the digital sale of new cars in Germany. In a market where customers are increasingly looking online for usage concepts instead of ownership solutions, MeinAuto Group companies offer fully digital, affordable and transparent monthly instalments for new vehicles and comprehensive services for all makes and models relevant in the German market. In the 2022 financial year, MeinAuto Group is targeting a turnover of €500 million. MeinAuto Group currently has over 500 employees.
The platform is Germany's most-used online marketplace for new cars and has had over 175,000 customers since 2007. Whether by subscription, leasing, financing or direct purchase, MeinAuto.de offers over 500 new car models from 40 different manufacturers for customisation or as pre-assembled new cars. Orders are placed completely digitally and, if desired, customers can access personal telephone advice before, during and after the purchase. The offer is based on flexible instalment solutions with comprehensive services. In 2021, there were approximately 32 million visits to the MeineAuto.de website.
"With MeinAuto.de, we dramatically reduce the number of steps involved in buying a new car: we not only offer every car at low, monthly rates, but also all new car models, all services and guarantees in one place. In order to always find the best car to suit individual needs, our customers can access one of over 100 personal CarCoaches  – car professionals – throughout the entire process," explained Marco Steinfatt, Managing Director of MeinAuto GmbH. "That's why several thousand people choose to order their next car from MeinAuto.de every month. We believe that this is something also of interest for every Schalke and football fan."
Thanks to VIVAWEST
FC Schalke 04 would like to explicitly thank its previous main partner VIVAWEST. "We can look back on a short but highly intensive phase. VIVAWEST stood by FC Schalke 04 during a difficult period and accompanied the club throughout a groundbreaking change of course," said Dr. Bernd Schröder. Although the main partnership agreement has now come to an end, VIVAWEST and FC Schalke will continue their common journey in the future. "We have already started discussing future cooperation a few weeks ago. VIVAWEST and Schalke 04 will remain partners," said Dr. Schröder.
✎
✓