Ciarán Carlin's first trip to the VELTINS-Arena
Three years after speaking to us about his love for the club, Ciarán Carlin was finally able to make the journey over to Germany to watch his first FC Schalke 04 game in person. We spoke to him about his trip to see the Royal Blues defeat Hannover 96 (28/10).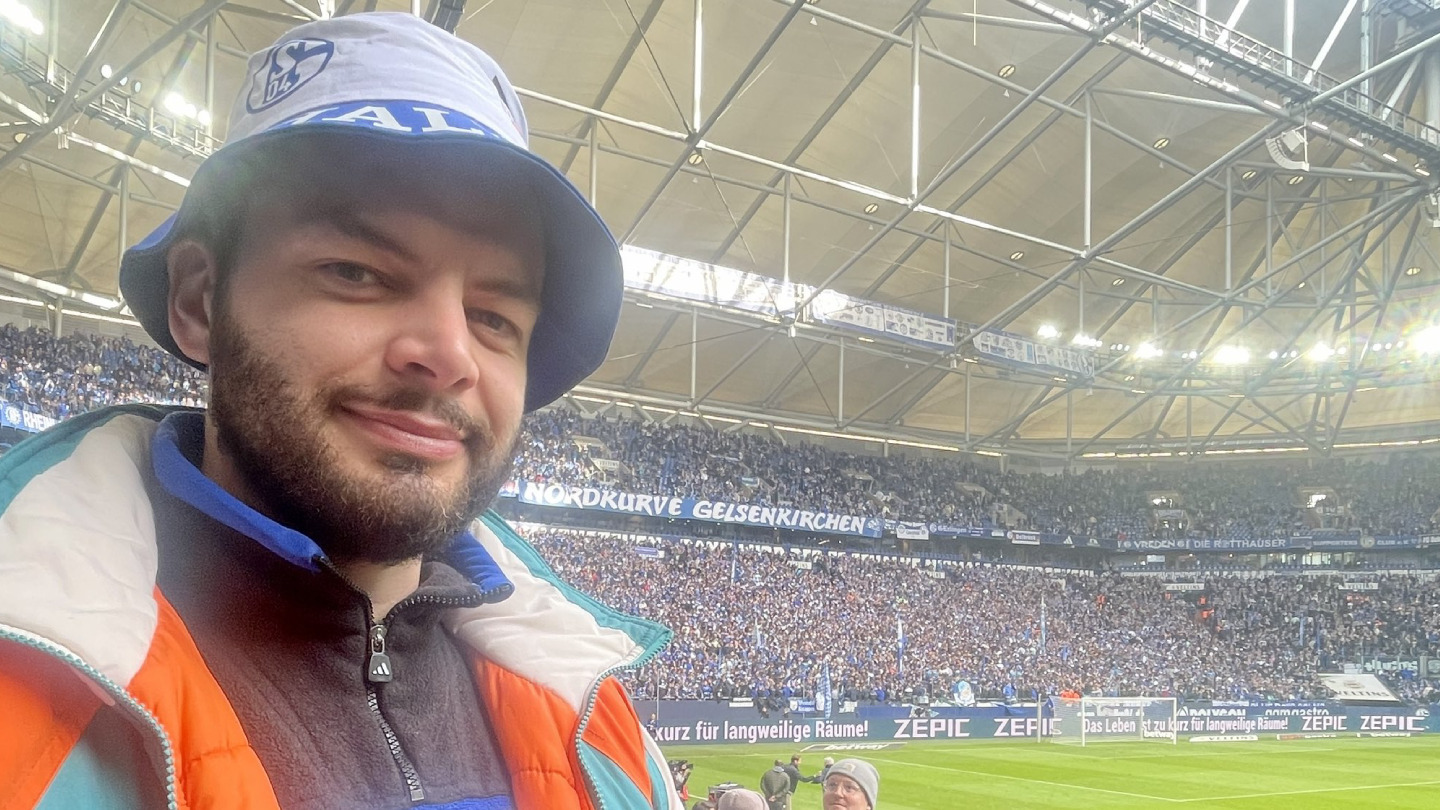 Ciarán, how was your first visit to Gelsenkirchen?
I really had no idea what to expect; I accidentally got off at the wrong stop after the game so we had a walk through the town and it was nice and quiet, it reminded me a bit of Chelmsford back in the UK! I plan on going back again to another game so I'll plan a bit of time before the match to have a proper wander around!
What were your thoughts on the stadium and the fans?
Honestly, absolutely unbelievable – I don't get to witness or see all the pre-match fanfare from back home when I watch it on TV. The stadium is plonked in amongst lots of green and loads of trees which is a lovely change from the often very residential and industrial places stadiums are in England. I need to learn all the German words to the songs before so I can join in a bit better next time!
It was absolutely unbelievable – I don't get to witness or see all the pre-match fanfare from back home when I watch it on TV.
Was it everything you'd expected it to be? Were you surprised by anything?
I expected to lose or draw at best so no, it wasn't! It was much better than I could have ever imagined, I just had a beaming smile on my face the whole day – one thing I really enjoyed was that you're allowed to just walk through the whole complex and watch any youth games that are on beforehand. You just wouldn't get that access for free in England.
Was this your first trip to Germany? Would you come back?
I went to Berlin for my birthday earlier in the year, which was the first time I'd ever been to Germany. I'll be back for sure! I want to see more Schalke games, as well as visit Nürnberg and Munich. I've been trying to learn German on Duolingo for over 100 days now, but I completely bottled speaking it this time round, I'm sure I'll be much better at it next time I come and see Schalke win!
What else did you get up to on the trip?
We went to Cologne for the evening the day before and visited the Lindt chocolate museum which was great. We stayed in Düsseldorf, so the day after the game we had a big walk around the city and went to Cafe Buur for breakfast which was class!
✎
✓