Dominick Drexler: This team never gives up
Although only substituted on in the 75th minute, Dominick Drexler was instrumental in securing a 2-1 victory over Werder Bremen on Saturday (29/4). This was not only due to his winning goal in injury time, but shortly before the midfielder prevented the visitors from taking the lead in front of the Nordkurve at the other end of the pitch.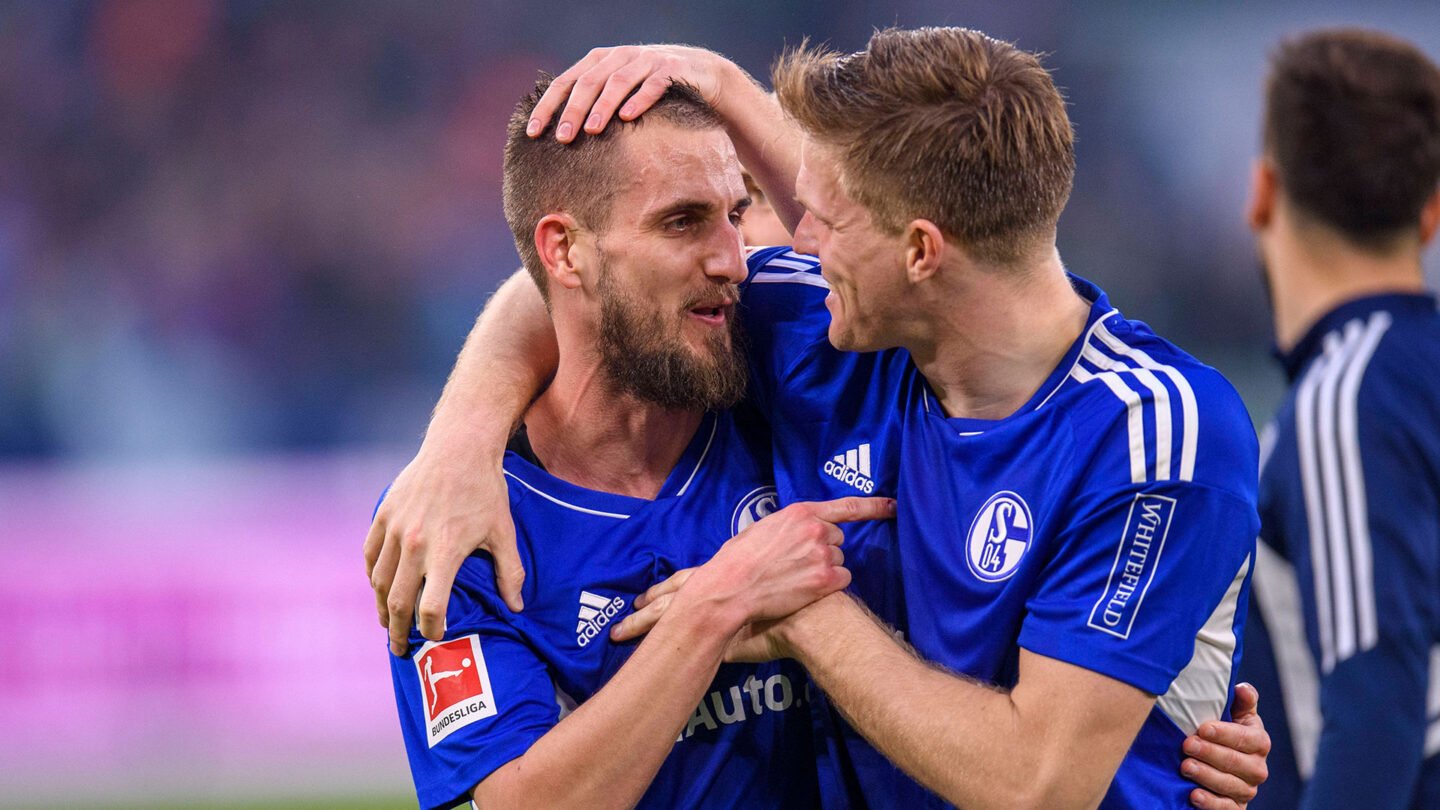 90 minutes had already been played at the VELTINS-Arena when Marvin Ducksch took a short from close range. Some of the travelling Bremen fans were ready to jump up in celebration, but were not expecting Schalke's number 24 Drexler to block the ball in spectacular fashion and stop the top goalscorer in the second half of the season, who he knows well, from scoring,. "Duckschi and I were teammates in the past at Holstein Kiel," explained the 32-year-old. "I knew that he wanted to put the ball in the corner. Of course I was very fortunate not to block the ball with my hand, but with my stomach. We needed that bit of luck."
First a save, then a winner
Drexler's intervention on his own goalline, however, didn't only save one point for his team. A few moments later, he went one better than his former teammate Ducksch and provided the highlight of the evening with his goal, skilfully taking a lofted ball from Rodrigo Zalazar down and beating Werder's goalkeeper Jiri Pavlenka. "I don't have such a great left foot, that's why I had to take it and put it on my right," said Drexler, describing his thoughts before scoring the goal.
Last year, we scored almost the same goal away at Ingolstadt. That's why I knew Rodri would play the ball.
The winning goal scorer revealed that he had expected exactly that pass from Zalazar. "Last year, we scored almost the same goal away at Ingolstadt," explained Drexler. "That's why I knew Rodri would play the ball.
After the initial ecstasy after the final whistle, Drexler was already looking ahead. "We can enjoy the victory for a short time, but those who know me know that I'm already thinking about Mainz. From the start of the training week, the focus must be completely on the next game," he stressed. "The table is tight, and fortunately the season isn't over after 30 games. We still have four games ahead of us, and we have to pick up points to be still playing in the Bundesliga next season, because that's where FC Schalke 04 belongs.
The 32-year-old firmly believes that they can stay in the league, since "this team never gives up. We don't fall apart, even when things aren't looking good." Against Bremen, the team impressively backed this statement up.
✎
✓