Thomas Reis: It's our responsibility
Following a number of friendlies and long training sessions in Belek and Gelsenkirchen, Thomas Reis' team are finally back in Bundesliga action this Saturday (21/1). Kick off away to Eintracht Frankfurt is at 15:30 CET on matchday 16.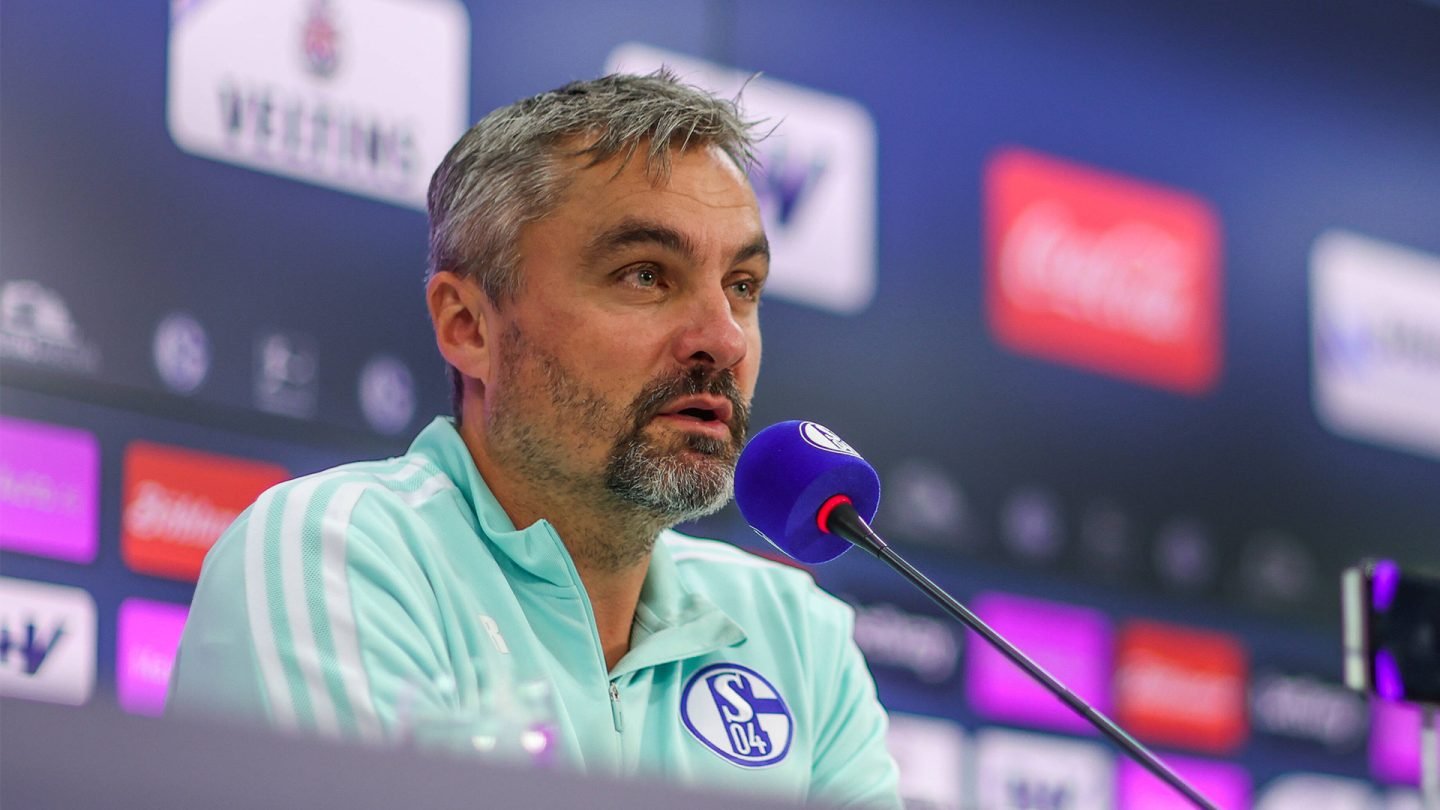 "The first game is always incredibly important," said head coach Thomas Reis when asked about the first Bundesliga match of 2023. Even though he wasn't happy with the results during the winter friendlies, the Schalke coach was still content with the number of things he learned from these games. "I saw a lot of positives against Werder Bremen. We won back the ball on a number of occasions, but didn't do enough with it once we did," stated Reis, who was also frustrated that his team "missed three or four clear-cut chances" in that game.
Availability of Kaminski, Bülter and Drexler not yet known
Reis does not yet know which players will be available to him for the trip to Frankfurt. Marcin Kaminski trained individually on a bike on Thursday (19/1), while there is hope that Marius Bülter will be able to feature. Dominick Drexler hasn't yet trained with the team since his Corona infection. Reis named Andreas Ivan (from the U23s), who was part of the training camp squad and also played in recent friendlies, as one of the possible candidates to replace Drexler should he miss out, alongside Kenan Karaman and Soichiro Kozuki. Rodrigo Zalazar is making good progress on his comeback trail, but will not be ready for the weekend. "I'm pleased that he's been able to complete parts of training. We have to make sure his foot reacts well and try to get him back into the squad as soon as possible," revealed Reis, who doesn't know exactly when the Uruguayan will be back.
Take away Frankfurt's enjoyment of the game
Just like the other 18 games left after Frankfurt, Reis wants his team to treat this one like a cup final. "The team has trained well and we'll send a team out there that can do a job in Frankfurt," said S04's head coach, who actually started his playing career at Eintracht. Reis described the Eagles as a "very versatile team, who are extremely dangerous from counter-attacks." His plan is to take away their enjoyment of the game and to find space to attack."
We want to stay in the division and secure safety without needing the relegation play-off. That's our aim.
Schalke are hoping to pick up at least a point on Saturday in their bid to avoid relegation. "Things are in our own hands. We want to play well this weekend. We know we're the outsiders, but every game starts 0-0," said Reis before the clash with the team fourth in the table. "I'm expecting the team to scrap hard and show that we're a side fighting for survival. We want to stay in the division and secure safety without needing the relegation play-off. That's our aim," demanded the boss. Schalke will be backed by a large number of away fans in Frankfurt, with Reis hoping the excellent support can help drive the club up the table. "It's our responsibility to get the fans involved and on our side. It's quite simply all up to us."
✎
✓